Armchair Genealogy
The Murder of Joe Godwin by his brother-in-law, John Elbert Kirby on 5th February 1884

(Or, Strange How Facts Present Themselves)

      It is always a rewarding experience when one sets out to tend to the care and pruning of the old Family Tree. For it was on one such 'gardening' chore that your author came upon this most interesting tale. The story of this horrific killing, the trial, the setting aside of the original verdict, and the monstrous aftermath has formed the basis of several books, newspaper accounts, and a family website. The sources for this compilation are given at the end of the column as the facts gleaned from each have been intermingled by your author herein.

      One of the most scandalous and infamous murders in the history of Pineville, Missouri, was not the murder of Joe Godwin by his brother-in-law John Kirby; rather, it was the murder of revered Doctor Albert Chenoweth on 12th July 1883. However, John Kirby played a large part in the trial of his accused killer, Garland Mann.

      John Elbert Kirby (Kerby in some documents) was married to Laura Missouri Godwin, sister to Joe Godwin, on the 22nd of April in 1883. Only days before Laura would give birth to their first child, a son named Elbert Lee, on the 9th of February 1884, her husband John would kill her brother, Joe, on the 5th of February 1884. (Joe and Laura were siblings to our great grandmother Sarah Jane Godwin Joslin, all children of James Sparkman Godwin and wife Siletha Bridges Godwin.) The trial of Garland Mann and the subsequent outcome is rightfully one of the most outlandish occurrences in the history of the sleepy little farming village of Pineville, Missouri. My interest in this trial came about as a result of my research into the killing of Joe Godwin by John Kirby. As a result of John Kirby and Garland Mann being incarcerated together in not just one, but two Missouri jails, Kirby became a prime witness against Mann in his trials.

      As background, Gerald Mann was by all accounts a man who enjoyed his liquor and imbibed in it frequently and heavily. He loved that liquor so much he decided to open his own saloon. The building he chose for this franchise was owned by Dr. Albert Chenoweth, a fellow Union soldier during the War between the States. The men may have had that in common, but little else did they share in personality, beliefs, behaviors, or friendship. For Chenoweth was an avowed temperance advocate who strenuously opposed all avenues for purchase or sale of the devil's brew. In 1877, Chenoweth had sold to Mann a building but then successfully opposed Mann's application to sell liquor on the premises. This had, in effect, defeated Mann's dream, cost him dear money, and sent him back to his hard-scrabble farm – an occupation he detested. Not only had Chenoweth caused Mann this financial hardship, he had also been party to another economic disaster for Gerald Mann. As mentioned, the two were Union soldiers and, in his duties as member of the local pension board, Chenoweth had written a letter opposing Mann's application for a pension. Mann had been wounded in the War at the Battle of Stones River, a wound that would leave him with a permanent limp. It was in the course of his objection to that denial of pension that Gerald Mann visited Washington, D.C., and found among the file documents the letter from his arch enemy, Dr. Albert Chenoweth. Apparently, Dr. Chenoweth's letter weighed heavily in the denial of Mann's pension.

      Mann was a major suspect when one of Dr. Chenoweth's buildings on Pineville's town square was burned by arson. Chenoweth openly accused Mann of the mis-deed. Thus, the feud between the two men was similarly fired with the good doctor's actions leaving the struggling, debt-ridden farmer with a thirst for more than alcohol – a thirst for Revenge.

      The name of Dr. Albert Chenoweth is not new to your author, because any review of the births, deaths, and illnesses of the good citizens of Pineville and neighboring Jane in the County of McDonald in the State of Missouri will result in the familiar signature of the attending physician – Dr. Chenoweth. He was a good man, well liked by most of the upstanding citizens of the county. But in the chest of one Gerald Mann beat a heart filled with but one driving ambition – to seek the final end to his mortal enemy, the death of the good doctor.

      On 12th July 1883, several witnesses would later report seeing a stylish buggy rounding the square. And they would, likewise, report one Gerald Mann inquiring as to whether or not the driver was, indeed, Dr. Chenoweth. Soon thereafter, the buggy was gone – and so was Gerald Mann. Within a matter of a half hour or so, gunshots would ring out upon the path between town and Chenoweth's abode. His young son, Charley, was at home with his young stepmother, heavy with child, that night. Upon hearing those gunshots and the sound of the abandoned buggy and team dashing past the house and crashing against a post, young Charley went to investigate. He found his father with a large, gaping hole in his chest, already past help.

      So public was the feud between Mann and Chenoweth that the investigation turned quickly to locating the suspected perpetrator. Although on the square a mere half hour previous, inquiring as to the identity of the driver of the stylish buggy, Gerald Mann was nowhere to be found. The following morning he was taken into custody suspected of the killing and, soon after his questioning, accused and arrested of same.

      Inquiries about the town turned up numerous witnesses who would swear to having been party to Gerald Mann's frequent and unceasing desire to kill Albert Chenoweth. He had been quite vocal for some time as to his intent to seek someone willing to carry out the deed or to accomplish the foul act on his own. The Neosho Times, a local newspaper, followed the trial and subsequent events closely, and provided verbatim testimony from the court. Among the statements of witnesses one stands out as the key to Mann's ultimate finding of guilt – the testimony of his cellmate, the inglorious John Kirby. Any reader interested in the Trial of the Century (as today's headlines might proclaim), the entire court case can be reviewed online as presented at: chenowethsite.com/chalbert

      The following excerpt is from the book "Murder and Mayhem in McDonald County" by Larry Wood:

"In early February 1884, Mann was brought to Pineville for his formal hearing and lodged in the jail there for the duration of the court session. During his brief stay, he and another murder suspect, Jim Wisdom, were taken out of their cells at night and hidden in the woods near Pineville on one or more occasions because McDonald County sheriff Joseph C. Seabourn had heard renewed rumors of mob violence against Mann, and Seabourn thought that Wisdom might need protection too."

A change in venue was pending to nearby Newton County in light of the heightened tensions surrounding the defendant in McDonald County. The new court date would not take place until April, however, and Chenoweth family and friends were not happy.

"In the meantime, Mann was taken back to Jasper county jail for safekeeping. Jim Wisdom and John Kirby, who had killed his brother-in-law in Pineville while the February court was in session and had been immediately indicted for murder, were also taken to Carthage from Pineville at the same time. . . . When testimony began . . . Several claimed that they had heard Mann threaten to kill Chenoweth on numerous occasions. . . .Perhaps the most damning evidence was given by fellow jailbird Kirby, who had known Mann for ten years and had shared a cell with him at Carthage. He told the court that Mann had made a jailhouse confession detailing his every move on the night of Chenoweth's murder. According to Kirby, Mann said that he got the murder weapon from A. M. Dillon's barn just off the square, ambushed Dr. Chenoweth, returned the gun to the same place he had got it, and struck off for home along a path that followed the river."

Of course, Kirby was accused of offering testimony in return for leniency in his own case (and may have received it, as he was fathering children with his wife a mere four years later). And others, including Jesse Bonebrake who lived along the river some distance from town, offered exonerating testimony. Bonebrake believed he had heard Mann coming along that very path away from the Dr's home, whistling innocently "Yankee Doodle Dandy" at a time that would have precluded him being the villain. (One must wonder if this is the very Old Man Bonebrake our mother told tales about, the Bonebrake whose hair and beard had never been cut but appeared short EXCEPT when he dove into the river from the tree off the cliff - Bonebrake Bluff - and emerged with Looooong hair and beard dripping water until he shook his head and both beard and long curls popped back into tight curls appearing to be short-shorned. So many times we heard that tale!)

The following testimony given by John Kirby against Gerald Mann was found on the website link provided above, devoted to the memory of Dr. Albert White Chenoweth that has been created by his great granddaughter. The testimony is quoted verbatim as it was originally published by the Neosho Times, a local newspaper in McDonald County, Missouri:

JOHN KIRBY: I live in McDonald County. Am acquainted with Garland Mann. Last February I was in Pineville. Have known Mann 10 years. I went from Pineville to Carthage with Mann and Wisdom in charge of the sheriff to Carthage jail. I was put in the same cell with Mann and two others. We were that way about two weeks, then we were left alone two or three nights. I know of the killing of the A.W. Chenoweth. We were taken out of the Pineville jail by deputy sheriffs and walked about a half-mile to the hack, which we were put in and started to Carthage. I did not hear of a mob in Pineville at that time. I stand indicted for the murder of Godwin, at Pineville last February. We left the regular Neosho road and drove through the woods. We met two men. Do not know whether they were armed or not. Got to Neosho about daybreak. Mann told me that he did kill Chenoweth, and that he didn't give a goddamn. He said that he was sitting on the platform of Thos. Clark's saloon when Chenoweth drove up. After they met, he walked up the street toward Dillin's place. He thought he would go in and see him, but changed his mind, as Dillin (JE note: as pointed out by Alicia Brown, the "History of McDonald County Missouri" by Judge J. A. Sturges--1897... states that "In October, 1884, A(lbert). M. Dillon, of Pineville was arrested as an accessory to the killing of Chenoweth, but was tried and acquitted by a jury of his own county, there being no substantial evidence against him.") was talking with his wife. He then went close to Dillin's barn, where there was a double-barreled shot gun placed, which he got. He then went across the hollow by Mr. Barr's, then across the Bradley Branch, going back of the widow Painter's and placed himself on a point a certain distance at the turn of the road near the school house and waited until Dr. Chenoweth came along. About 8 o'clock Chenoweth came along, Mann having been there only a few minutes. He said he then fixed him and that the team went on and he struck out for tall timber. He said he went home. He said he supposed the gun belonged to Dillin, but that he didn't give a damn, that he was killed, all the same. He said he placed the gun in about the same place he found it. That when he got home he looked at the clock and that it was about 9 o'clock. He said that his reason for killing Chenoweth was that he had interfered with his whisky and pension business and that he had accused him (Mann) of trying to burn the town. Mann's reason for telling me was that I was in jail, and that my evidence would not be admitted in court. In 1876 Mann had a whisky shebang in Pineville, and one day he took me back of his place and offered me or any other man $65 to kill Chenoweth. (When the cross examination commenced, the witness claimed to have been taken with a chill, and was examined by physicians who pronounced him unable to testify, and the court excused him until he was better..


CROSS EX. OF JOHN KIRBY: The prisoners in the Carthage jail were usually shut up at 6 o'clock, J.J. Irwin was jailer. He shut Mann and I in our cell together. I cannot say what time it was when Mann and I were talking, I was not in Pineville the night Dr. Chenoweth was killed, but was there when he was buried. Never talked to Henry Testerman about this case before I was taken to Carthage, nor heard what his testimony or that of any other witness would be. Did not talk with J.W. Brunk about the testimony at the preliminary trial. I was in town frequently, after the killing of Dr. Chenoweth, but did not hear what any of the witnesses would swear to. That is true. Never heard the evidence and didn't know anything about it. Did not state in my direct evidence that I had talked with John Mosier before and after the examination. Am acquainted with J.L. Barr. Did not have any talk with him about his case. He did not agree to defend me if I would swear to the confession of Mann. The first time I ever told of Mann's confession was in this courtroom. Dick Roberts brought me here. We stopped at the McElhany house. Did not tell the state's attorneys in this case anything about Mann's confession. Did not tell Sheriff Roberts about Mann offering me $65 to kill Chenoweth. Did not tell Sheriff Roberts that I was coming here to be a witness. Did not know what I was coming for. Did not talk with my brother about this case. Did not write a letter to Mr. Cole, telling him about a confession. Did tell the state's attorneys at the hotel after I came here. Told them that Garland Mann had told me that he killed Chenoweth. Told them that he told me he killed Chenoweth and didn't give a damn. That he was sitting on the platform at Clark's when Chenoweth drove past. That he went to Dillin's and got the gun which was near Dillin's barn, and then went up back Col. Barr's and the widow Bradley's until he came to the place where he hid himself, and waited until Dr. A.W. Chenoweth came along when he killed him. He then returned about the same route he came, put the gun close to where he found it and then went on home, struck a match and that it was 9 o'clock. He said he then went to bed, when Mann told me this we were all in cell no. 7. The last man discharged out of the cell leaving Mann and I alone was named Mitchel. Never told anyone about the confession until I told the attorneys at the McElhany house. Saw Mr. Lamson at Carthage but did not speak to him. Messrs, Barr and Lamson or no one else ever made a proposition to me to help me in my case if I would swear against Mann. Am under indictment for killing my brother-in-law, Godwin, on the streets of Pineville, on the 5th day of February '84. The killing was done about 10 o'clock in the forenoon.

      Whether or not Gerald Mann was the man who ambushed Dr. Chenoweth will never be known in this lifetime. The testimony of all the other witnesses both supporting that claim and offering exonerating testimony that would place Mann away from the location are all available at the website referenced above. Even J. W. Brunk, John Kirby's attorney provided testimony – testimony that is not altogether kind to one John Kirby:

      "J.W. BRUNK: Live in Pineville. Am an attorney. Know Henry Testerman. First knew him in 1877. Henry Testerman asked me in Pineville, MO, at the Lamance hotel, "What have you fellows done with Garland. Will he give any money for a witness." I told him I did not know. He then said that for $500 or $800, he would clear Garland Mann. That he was a convict and an outlaw and didn't care anyway. On the day of Garland Mann's arrest, I, in company with Sheriff Seabourn, went to Mann's house. Seabourn found a shotgun above the north door of Mann's house, and also a breech-loading rifle. The shotgun belonged to me. I took it there last July. I took Alf Kirby into my room at the Commercial hotel and told him that I understood that Old Abe Price had hired John, his brother, to swear Garland Mann's life away. I am attorney for Kirby. Told him that I wanted to see him and see what he knew about it. That in the excitement in McDonald County wanted to hang him and the other to give him a fair trial. That I had so far been able to control the men who want him to have a fair trial. That Chenoweth's friends were the other element, and were not disposed to prosecute Kirby, and that he had better let the matter alone. That I didn't think John would swear to a lie except to save his life, but that I heard that inducements of that kind or threats would compel him to. That if he did swear that way Benton and probably Cravens would be hired to prosecute him. I asked Kirby if he did not want to live on my farm that I thought he was a good hand, but did not say free of rent. This is the substance of what I said to Alf Kirby about the Mann case in my own room at the Commercial hotel."

It is an interesting story. One with passion, murder, and the added interest of having a family member intimately involved even through such a nefarious act as the murder of one's own kin. It is a sad story in all aspects: the killing of the prominent doctor, the crushing of one man's dreams and the absolute damage financially and by character assassination that Gerald Mann felt so passionately; the involvement of our family by the horrific act of murder – and the motive for that untimely and dastardly act still not discovered; and the ultimate outcome of the mob mentality that brought the actors together in this dance with Lady Justice. The story is succinctly told by another descendant of Dr. Albert Chenoweth: Shauna Harris, as referenced on the Chenoweth site:
FROM THE HARRIS BOOK: Doctor Albert practiced medicine quite successfully in his home town of Pineville in McDonald County, and was a most prominent citizen. From 1866 to 1870 he was the County and Circuit Clerk of McDonald County, and in 1878 he was elected to the Thirtieth General Assembly of Missouri, Democrat, Representative. He was a member of the Methodist Episcopal Church and a zealous temperance worker, a devotion that cost him his life.

On the night of September 12, 1883, Dr. Chenoweth was shot from ambush while returning home in his buggy from Pineville. He fell to the road from his buggy, mortally wounded by two shotgun blasts. His antagonism towards liquor and saloons had made him enemies. Garland A. Mann of Pineville was an open bitter foe, claiming that Albert had prevent him from obtaining a liquor license and had interfered with his pension request, and was known to have threatened Albert. Mann was immediately arrested and jail. He was tried, but the jury could not agree, and a new trial was held. He was convicted of murder and sentenced to be hung, but the Supreme Court reversed the decision and ordered another trial. The third trial again resulted in a hung jury and mistrial. A fourth trial was begun, but on the night of August 3rd, 1885, an angry mob, frustrated by the delays, broke into the jail and shot the accused man to death.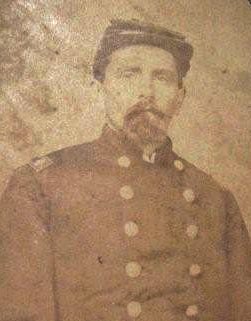 Dr. Chenoweth

      The moral to this story is to tend that tree, take the time to dig for the STORY not just the FACTS. Because you never know what you might discover when you decide to explore Armchair Genealogy.
SOURCE MATERIAL:
1. Murder and Mayhem in Missouri, author Larry Wood; Publisher: Charleston, SC: The History Press, 2013. (This book will deal with notorious incidents that occurred throughout the state of Missouri from before the Civil War through the gangster ear of the 1920s and 1930s") Most noted murder case in McDonald County history: the Mann-Chenoweth affair.
( https://books.google.com/books?id=NsB2CQAAQBAJ&pg=PT46&lpg=PT46&dq=John+kirby,+pineville&source=bl&ots=bs4NekjAWy&sig=4qAD6ltbeCANOwaxzEGm1Lu_L0&hl=en&sa=X&ved=2ahUKEwiI7MXEoMjcAhUTO30KHdvyD6gQ6AEwCXoECAQQAQ#v=onepage&q=John%20kirby%2C%20pineville&f=false) to access the preceding link, copy info inside the parenthesis and paste in new tab.
2. Dr. Albert White Chenoweth, "Assassinated September 12, 1883, Pineville, McDonald Co., MO;chenowethsite.com
3. SOURCE: http://files.usgwarchives.net/mo/mcdonald/vitals/marr_c.txt )
McDonald County Missouri Marriages, Book C; 1881 – 1888; Copyright © 2000 by Patricia A. Scott. Transcribed from microfilm #0930075 by Patricia A. Scott (legacy@comnett.net) for display on the USGenWeb Archives. You are welcome to print and use this information for personal purposes or distribution to a library. No commercial use or for profit use is allowed. This is the first book that has actual certificates of marriage. Where indicated, the parties married, date of solemnization, official and bond or consent is transcribed. If the marriage was not solemnized, the date listed is that of the license. Every effort has been made to avoid error. However, if you find that one has occurred, please notify the transcriber and copyright holder of any corrections or additions. There are two marriages listed on each numbered page.

(#078 John E. KIRBY to Laura GODWIN, both of Pineville on April 22, 1883 by John Mosier, JP at John Mosier's residence.)


Researched and compiled by Melinda Cohenour.
---
Click on author's byline for bio and list of other works published by Pencil Stubs Online.
---