9/30/2002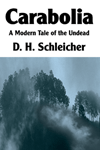 Carabolia
Carabolia (publication date: September 2002) is the new murder mystery thriller from D.H. Schleicher and is brought to you by Writer's Showcase and iUniverse.com. You may order from Amazon.com on this page.
ISBN: 0-595-24219-7
Reader beware...the best advice about getting into this book. Not only is it more than difficult to put down, but long after you have finished reading the tale, its characters and scenes will haunt you. You will find yourself wanting to go back to read this description or that of a conversation, or the manner in which someone received a piece of information. You won't soon forget this murder mystery.
Schleicher is adept at pulling you into the center of people conflicts, indeed, into their minds and thoughts. You hear the sobs, see someone wink, or try to hide their gaze, breathe in the atmosphere of treachery. You feel the dampness of the fog, as the story leads you out into the woods. The suspense continues to build as one character, then another, gains your championship, and you yearn for revelations to ease the way to their secure future; but then you are betrayed by facts masquerading as myth, or is it the other way around.
Always the master at dream telling, Schleicher allows you to dream along with more than one of the magnetic personalities within Carabolia. The magic of Carabolia does not end with the Introduction, but becomes a part of your own wonderment. Touted, actually sub-titled, as "A Modern Tale of the Undead" Carabolia none-the-less lulls you into forgetting that threat hanging over its words, which instead lead you into feeling you can help solve the mystery of the young distressed female, Maggie Delaney. You meet her in the first chapter, and are quickly sensing hidden meanings to what everyone in Leedstown has to say. You are drawn into the intrigues, past and present, that revolve around the local Carabolia Diner adjacent to the interstate, but situated in a world with an entirely different mindset.
Though this reader has always been prone to decipher plots before the author completes laying them out, Carabolia did not offer such detection. I appreciate the rare book that can do that, and Schleicher already won me with his first novel, Crematorium, a crime novel, which does not find a sequel in Carabolia -- each stands unique and the reader can't go wrong in adding them to their preferred library.
---
David H. Schleicher was born and raised in southern New Jersey. He graduated with a BA in Psychology and a minor in Criminal Justice from Elon University. The author currently makes his home in Charlotte, North Carolina. Schleicher's website: http://www.angelfire.com/nc3/crematorium/index.html
Offered By iUniverse