Get Well
By Leocthasme
All About Getting Well
And
About Those Who Help With The Healing Process 
At one time or another many of us may need to spend some, and for the most part, unwanted, time in a hospital.  Usually not the nicest place to be, from a standpoint of 'places I'd rather be'. But, I think I found one that if I had to be there that would be where I would want to be.  Such a declaration needs some clarification, so let's get to this story about preferred hospitals and other such places that help in recovering your health. 
Just a few short weeks ago, my mate, Mary, had to spend some time in one of those places you would rather not be.  With arthritis and other problems it was determined that a knee replacement would be in order.  Well, it was arranged and the first place to be confined was at Plano Medical Center, Plano Texas.  That was a nice enough place and the care was great.  And, as soon as she had recovered enough from the initial physical peril, Mary was sent to HealthSouth, a rehab hospital.  There she was to be given the proper treatment and exercises that would bring her back to 'normal'.  I think as health care and recovery go, that facility does more than just get you back in shape. 
After she was there for about a week, and feeling better, and beginning to move about a bit, she invited me to come early on a Saturday afternoon and join in some fun and entertainment.  And, to my surprise, I was entertained.  If I had spent a bundle of bucks to get a front row seat at a top entertainment spot, I would not have gotten better.  But this was for zilch, nothing, not even a 'pass the basket' performance.  This was for the benefit of the recovering patients and a Saturday afternoon was a good time to get away from the weekly routine of doctors, nurses, exercises, and such things that take place in a normal work week in such a facility. 
As, Betty Dunnam, scgndwdb@prodigy.net  a retired school teacher, and now the Recreational Director at HealthSouth put it, "Getting happy is getting healthy too".  She started the afternoon off with refreshments, friendly chatter, and a warm up game or two on dart throwing.  Of course throwing darts is not only fun but a type of exercise, thus Saturday didn't pass without some bit of rehab.  
And, then the fun began.  Betty introduced the gathered get wells and guests to a country and rock singer, songwriter, entertainer, retired US Army veteran,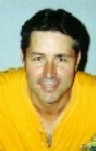 Rick Stanley. His mother, Sarah Murvine, had been at HealthSouth between January 14 and February 12 of this year.  She had back surgery at Plano Medical Center and has recovered very well, so Rick was doing this in appreciation of his mother's treatment and revitalization.  Mom pressed all the right buttons on the playback machine while son Rick sang to the music and played the guitar.  For a 'do it yourself' put it together quick performance mom and the system and the singer worked great together and everyone enjoyed the routine and sang along too.  He sang a lot of old favorites and a couple of his own compositions.  Rick calls his music 'CROCK', since he says it's a combination of 75% country, 15% classic rock, and 10% oldies but goodies.  Whatever the combination, it's great fun and entertainment for any group.  As the old saying goes, 'Try it, you'll like it'.
Rick now lives in Leonardville, KS and has a website  www.rickstanley.com   where you can hear some of his music, download a sample or two, and buy his CDs.  Go there and browse about a bit and check the site out as I am sure any country and rock fan will enjoy everything there, PICs, band members, stories and all sort of goodies.  Rick brings authenticity to his vocal renditions, claiming to be from Soddy-Daisy, TN; he could be the male counterpart of the late, great, Minnie Pearl, who claimed she was from Grinders Switch.   You will have to check out "Where The Hell Is Soddy Daisy?" which was recorded live in Germany.  He said he would return to play HealthSouth again on Sunday, August 17th between 3:30 and 5:00 pm.  Anyway Rick was a fun, entertaining guy, but he wasn't the end of the afternoon amusement.  There was more! 
No sooner than Rick, with mom's help, finished entertaining the gathered guests, we were introduced to a group of young ladies, known as the "White Rock Cloggers"from Dallas, TX, and to be sure that went along right well with country music.  I did not get a web site, but here is the e-mail address of their leader if anyone wants more information    cloggann@airmail.net  .  
The group consisted of, six capable, classy, clogging chicks;  Ann Rerat, the leader, Doris Esernisse, Carol Adams, Jeanette Sliter, Phyllis Shreatl, and Jeanne Casentino.  The routines were fun to watch and you could see that a lot of preparation and effort went into the traditional tempo.    I haven't seen as good a group of Cloggers, since maybe watching re-runs of "Hee Haw" or sometimes a group gets a gig on "Austin City Limits".  They capped the afternoon of fun and entertainment, and as I said, I could have spent big bucks and would not have been better occupied for a fun afternoon.. 
Ann Rerat, Director, Instructor, Choreographer of the White Rock Cloggers commented, "White Rock Cloggers started in 1994. We went from small numbers, to large numbers, to small numbers. We do Appalachian Style Clogging to Country or Bluegrass music. I've taught workshops and we have danced all over the USA. At the President's request, I took many cloggers from the state of Texas to march in the July 4, 2001, parade in Washington DC. First time in history a President requested cloggers be there. But he didn't want cloggers from any other place. He wanted only the ones from Texas and they were to all go as one team. I was elected to direct that team which was known as the TEXAS LONE STAR CLOGGERS for that occasion. A banner was made and given to President Bush with all the signatures of the cloggers who went. Five of my group were among those dancers, which made me feel very honored as did the plaque I received for directing the performance."
Ann told me they have danced at Six Flags Over Texas and at many different towns for their festivals or celebrations. They are always booked on holidays, and dress according to the theme, July 4th, Christmas, etc. The shows last about thirty minutes, using Ann's choreography. She is already booked for workshops in Dallas, New Orleans, and Las Vegas between now and Thanksgiving. The team is booked for several towns throughout Texas, and though they do perform for money, they also donate their performance for a lot of fund raisers for charity events and dance for people such as the patients at HealthSouth often. Ann added, "We just love dancing and love to dance for any event anywhere. We do have some Christmas bookings on our calendar, but we love to stay busy and dance at any function we can as we are requested."
Anyway, the afternoon was great entertainment for the get wells and their guests. And, I'll repeat what I said at the beginning, if it's necessary to spend time in places you would rather not be, HealthSouth is a choice spot, along with Betty and the rest of the staff who do the best for you and bring the best to you.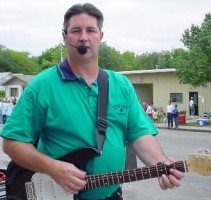 Rick Stanley at Hullabaloo
---
NOTE: See "Tribute of a Patient" article for Mary's salute to her care-givers.
---