A presentation each issue that informs and entertains the readers of this ezine
and is also carried in Eric Shackle's E-Book, the
first multi-national literary attempt of its kind.
Where did St. Patrick's Day last for a week?
By ERIC SHACKLE, in Sydney, Australia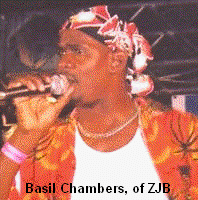 Where in the world is St. Patrick's Day (March 17) so important to people with Irish names that it has become not one day but a whole week of festivities?
Ireland? WRONG! (Dublin's festival took only five days).. New York? WRONG... Australia? WRONG AGAIN.
The surprising answer is: the tiny tropical Emerald Isle of Montserrat, in the Caribbean, where an annual festival to honor the saint who converted the people of Europe's Ireland to Christianity was held from March 12 to 19.
"In the 17th century, the island was a haven for Irish Catholics who had served out their time as indentured servants in the British West Indian islands.," says Ishwar Persad, on the island's tourism website.
"Today, there's a touch of Ireland in its looks, sounds and even tastes. The harp and the female figure on the island's flag and official seal are derived from the Irish heraldry.
"The local speech is softly laced with Irish brogue and the Irish legacy is evident in surnames and folklore. Even the national dish, Goat Water, a stew made of kid or mutton and spiced with cloves and rum, is of Irish origin."
The festival commemorates a slave rebellion on St. Patrick's Day in 1768. Highlights include feasts, parades, concerts, and outdoor theatre shows.
A newspaper article written in 1988 said "Montserrat is nicknamed the Emerald Isle for more reasons than its physical similarities with the island of Ireland. Among the original European settlers were Irish Catholics who migrated here from the British island of St. Kitts.
"Many place names, such as Galway, hark back to those times. Some people swear that Montserratians speak with a bit of the Irish brogue. St. Patrick's Day is a national holiday, and visitors' passports are stamped with a shamrock!"
While researching this story, we found a colorful picture of Basil Chambers of Montserrat's government-owned radio station ZJB. He's also known as Tom Sawyer, Jon Parl, El Pappyshow O', Brother Roper, Teabush, MMM, Bloodman, and Radio Montserrat.
"Basil is on the air Morning, Noon and Night," says the station's website. He runs the morning show from 5am to 10am and reads the evening news from 6 to 7 o'clock Monday to Friday. He also hosts a Pappyshow from 3pm to 7pm on Saturdays.
Many US cities, notably New York, home of many thousands of Irish immigrants and their descendants, celebrated St. Patrick's Day in a big way.
In the 1940 film "Little Nellie Kelly," Judy Garland, who once described herself as "just an Irish biddy," sang with great gusto:
It's a Great Day for the Irish,
It's a great day for the fair!
The sidewalks of New York are thick with blarney,
For sure you'd think New York was ol' Killarney!

It's a great day for the shamrock,
For the flags in full array.
We're feeling so inspirish,
Sure because for all the Irish,
It's a Great, Great, DAY!
Links
More about St. Patrick's Day
---
Click on author's byline for bio.
---