Irish Eyes
Photographic Memories
Photography records the gamut of feelings written on the human face, the beauty of the earth and skies that man has inherited, and the wealth and confusion man has created. It is a major force in explaining man to man. --Edward Steichen
Ever since Joseph Nicephore made the first permanent picture with a camera, in 1826, photography has been evolving as an art form. But a different and separate one, unrelated to any other.
In the words of Berenice Abbot,"Photography can never grow up if it imitates some other medium. It has to walk alone; it has to be itself".
Saint John's Arts and Heritage Centre
For the month of September, Saint John's Arts and Heritage Centre (a former Church) in Listowel, will be home to the works of two Kerry-based photographers Tom Fitzgerald and Dillon Boyer.

Seeing how the ordinary can become extraordinary, in a frame, one is obliged to concur with the words of Elliot Erwitt, " . . .Photography has little to do with the things you see and everything to do with the way you see them."
Dillon Boyer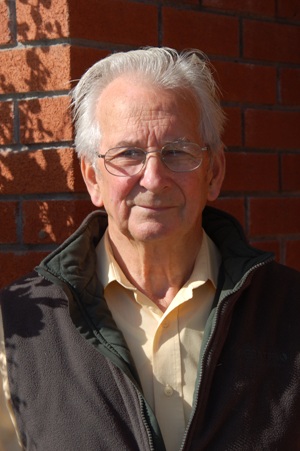 DILLON BOYER who was born in Kent, England, has been interested in photography for almost sixty years. He was a member of Tunbridge Wells Camera Club where he won many prizes within the club and nationally. On retirement, drawn to the landscape and opportunities for portraiture in the Kingdom, he and his wife Mary moved to Listowel.

He was a founder member of Listowel Camera Club with John Stack. Under Dillon's guidance it went on to become a major camera club within the Irish Photo scene, winning the National Shield in the mid-nineties, and also hosting the event in 1995. Dillon has won National Medals in the Nature category on two occasions in the 90's. He is also an accomplished Video and wedding photographer. The Canon is his favourite camera.
Tom Fitzgerald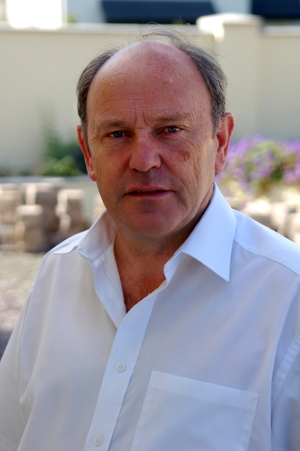 TOM FITZGERALD, a native Kerryman, has being interested in photography since the mid sixties when, as a young man, he started taking photos with a Kodak instamatic camera. He bought his first SLR camera, a Pentax K500 in 1974 and graduated to Nikon in the eighties. He was a reluctant convert to digital but won't now travel (even to the shop) without his Digital Nikon SLR. A member of Listowel CC almost from its foundation, Tom has an extensive collection of photos of local people and places as well as prize shots from further afield.

And his indexing system is just as baffling, to me, as quantum Physics. If you want a pictorial record of a moment frozen in time, be it a First Communion in 1970, Mount Brandon shrouded in mist, or Bill Clinton putting in Ballybunion, the image is produced in seconds.

This is one Kerryman who doesn't answer a question with a question. Your query about that shepherd's cottage backlit by the rising sun will elicit a comprehensive account of the topography of that burgage, with the unpronounceable name, in the Scottish Highlands. And what about the shot of the two ponies on Glenbeigh strand? That was taken on Sunday the nineteenth of August 1979, when the wind was blowing from the east and Seefin illuminated by a waxing moon.

Landscape ("the supreme test of the photographer") features largely in the exhibition and includes the fruits of Tom and Dillon's many trips to Scotland and England. And appropriately enough the exhibition (Which is supported by North Kerry Together Limited), is titled "Near & Far".
Sunset at Kerry Head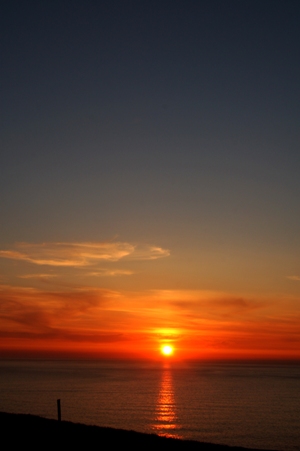 I attended the opening and it's amazing the snippets of information the camera-illiterate such as myself can pick up at such a gathering. Amid terms such as "Chromatic aberration", "Macroscopic", "Reciprocity failure" and "Tonal range" I learned that the first photograph taken in Ireland was in 1848 and was of Young Irelander Patrick O'Donohue.
Glen Inchaquinn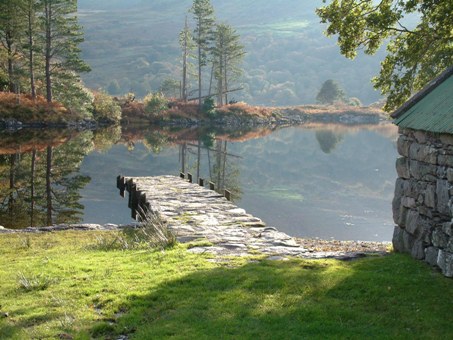 David Hockney said, " All you can do with most ordinary photographs is stare at them". Well, these are not ordinary photographs and if you are in or near Listowel during the next month you call to Saint John's and you can browse, buy or both.
Waterville Lake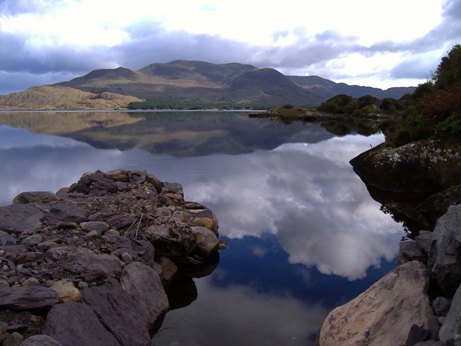 ---
Click on author's byline for bio and list of other works published by Pencil Stubs Online.
---
.