Historical Western Swing - Shelly Lee Alley and His Alley Cats
By Leocthasme
Historical Western Swing
In the next several issues of Pencilstubs, I will try to continue my several articles on the history of Western Swing. Many, many, comments have been received directly by me and many more have appeared below the several articles I have written since the October Issue of 2000. There are still comments being made on the original article because it is referenced any time someone just looks for Western Swing by typing just those two words into a search engine. Well, let's face It, I love the referrals, and now just thinking of that, I feel I should continue to add all the information I can find on an interesting subject, from all sources beside all the information I have accumulated over the years from clippings and the backs of old record covers.
So every month or so I will find and report on some interesting fact, history, or an individual who helped make this genre very special in the history of American Music.
Here is another article on a very interesting person who did so much for
Western Swing
Keep Posted to This Site!
Alley, Shelly Lee:
Writer, Song Writer, Band Leader, Fiddler, Western Swing Pioneer
1894 - 1964
Shelly Lee Alley and His Alley Cats
During the '30s and '40s, Shelly Lee Alley and his Alley Cats were one of the more prominent Western Swing bands in the state of Texas .
Alley, singer/songwriter/fiddle player, born in Alleyton , Texas , July 06, 1894, the son of John Ross and Eliza ( Hoover ) Alley, began his career as the leader of a San Antonio army camp orchestra during World War I. Following military service, he went on to lead several small orchestras, which played on radio stations throughout the Lone Star State . He died in Houston on June 1, 1964, and is buried in the Alley family cemetery in Alleyton. At that time he was survived by his wife, Velma, of twenty-two years, a son, Shelly Alley Jr, and his stepson, Clyde Brewer. Alley was inducted into the Western Swing Hall of Fame in 1994.
During the early '20s, Alley was primarily interested in pop and jazz music and belonged to several small combos, including the 'Dixie Serenaders', which played at a Dallas radio station. In addition to performing and conducting music, Alley was also a songwriter. One of his early songs, "Travelin' Blues," became a Depression-era hit for Jimmie Rodgers; its success turned Alley more towards Country and Western Music, and he joined a Fort Worth radio show called 'The Chuck Wagon Gang'. He formed the Alley Cats in 1936 and played radio stations and local dances in the Houston and Beaumont area. The Alley Cats recorded several sessions for the American Record Corporation (RCA) on the Vocalion label. Some Alley Cats members, such as Ted Daffan and Leon Selph, went on to form their own successful bands. Alley, considered one of the greatest bandleaders of the 1930s and 1940s, was descended from the original Austin colony settlers after whom Alleyton was named. His father owned a cotton gin there. Alley learned to read music when he was a child. That skill enabled him to lead the army base orchestra in San Antonio , where he was stationed during World War I. In the 1920s he led several different orchestras that played primarily pop and jazz. He became a pioneer in radio broadcasting when his bands got airtime on numerous Texas radio stations including KRLD in Dallas . In the late 1920s Alley began to move away from the orchestra sounds and toward a blues and pop sound that featured guitars and fiddles
In 1936 he formed the Alley Cats, based in Houston and Beaumont. The band featured several members who became famous in their own right, including Leon (Pappy) Selph, Ted Daffan, Cliff Bruner, Floyd Tillman, and Alley's stepson, Clyde Brewer. In the late 1930s the Alley Cats recorded fifty-four sides, primarily for the Vocalion label. Although Alley himself never had much commercial recording success, some of his songs became huge hits for other artists. In 1933 Jimmie Rodgers recorded Alley's song "Gamblin' Barroom Blues". Alley's most famous song was "Travelin' Blues". Rodgers, accompanied by Shelly and his brother, Alvin, on the "twin-fiddles," first recorded the song in 1931. More than twenty different artists have since recorded "Travelin' Blues", including Bob Wills, Ernest Tubb, Lefty Frizzell, Merle Haggard, and, more recently, Jimmie Dale Gilmore.
In 1941, Alley cut a single for Bluebird, and also continued writing songs, many of which were recorded by Jimmie Davis. During World War II, the Alley Cats broke up and Alley began playing with 'Patsy and the Buckaroos'. After the war he got the Cats back together and cut a single for the Globe label, but the group disbanded for good around 1946. Alley still played his fiddle occasionally and wrote songs; his stepson, Clyde Brewer, went on to become a popular Western Swing fiddler in his own right. After poor health forced Alley to retire from performing, he continued to write music, including several gospel tunes. He also did some session work with Benny Hess and others.
When one thinks of the purely Texas musical form known as Western Swing, it evokes images of 'Bob Wills & His Texas Playboys': cowboy hipsters in two-tone suits and pointy-toed boots, topped off by Stetson hats; the sound of twin fiddles backed by a steel guitar and a stand-up bass. A younger generation might think of 'Asleep At The Wheel', the Austin-based country outfit that has spent upwards of three decades keeping Western Swing alive and well with a modern twist heard here and there. But, as with so many enduring musical styles, the origins of Western Swing go back to a time far removed from the America in which we now live.
Back then our nation had triumphed in World War I, shaking down Germany and upending the Kaiser, clearing the path for a crazed young housepainter with self esteem issues and a funny moustache to threaten democracy twenty years down the road. The roaring 1920s - forever pegged in history as the Jazz Age - was a time of celebration. American men were back from the trenches and American women couldn't have been happier. Not even the government's prohibition of liquor could keep the good times from rolling on. And when these young Americans drank their bathtub booze, they wanted to dance; young couples stayed in at night, sparking. to thick 78 rpm platters played on a hand-cranked victrola. It was an era when Al Jolson emerged as the nation's first pop star; when the style that would come to be known as Big Band Swing was still in its infancy; and when a young upstart nicknamed Satchmo introduced the world to Big Easy jazz.
In San Antonio , a young Texas fiddle player named Shelly Lee Alley was finishing an Army hitch, where he kept up doughboy morale as camp bandleader. Soon afterwards, Alley went north to Dallas, composing music and conducting fledgling swing bands including his own combo, the 'Dixie Serenaders' for broadcasts on new electric radio. Shelly Lee Alley continued writing and performing swing and jazz throughout the 1920s, but his career path took a happy twist when he met a man on his way to becoming an American music legend.
Jimmie Rodgers is a figure larger than life: he spent his early years with his aunt, a music teacher, who exposed him to song. He won a talent contest at age 12 and impulsively hit the road, performing in tents and pool halls, but was soon dragged back home by his father, a railroad man. Rodgers then joined his dad on the tracks of the New Orleans & Northeastern Railroad as a brakeman, traveling America and singing wherever he could; it was a hard road, made even harder when Rodgers was diagnosed, at age 27 as having tuberculosis, a virtual death sentence in the early part of the 20th century. Rodgers became more determined to have his music heard, and got a chance to record for RCA in 1927. His first release, "T For Texas (Blue Yodel)", which became his signature song, slowly gained public acceptance. By 1929, Rodgers was a big attraction, becoming the first 'Country Music' star.
In a San Antonio hotel room in 1931, Jimmie Rodgers recorded a song written by Shelly Lee Alley, "Travelin' Blues", not only was it a big break for Alley, but a departure for Rodgers, as Alley and his brother, Alvin, accompanied the 'Singing Brakeman' on the recording, adding twin fiddles to Rodgers' raw acoustic sound.
The recording became a giant hit, not only changing Shelly Lee Alley's life, but his approach to music. Alley combined swing with Rodgers' grassroots style, trying it out on the public as a regular on a Fort Worth radio show to great success. Rodgers recorded another Alley composition, "Gamblin' Barroom Blues", in a recording session shortly before he succumbed to TB in 1933.
In 1936, Shelly Lee Alley took a step forward and formed his own string band, 'Shelly Lee Alley and His Alley Cats', all part of the birth of Western Swing. Bob Wills still referred to his music as Western Dance Music. The fact of the matter is that Shelly Lee Alley virtually invented the style that is now old-school country; hell, he built the school house where the old-school is housed, and playing the music before it even had a name, while Jimmie Rodgers brought the sound of rural America to the big city. Alley refined the sound, adding a pop touch that formed the foundation of country music, even as it is today. Along the way, he influenced generations to come. In forming the Alley Cats, Shelly Lee Alley assembled a group of extraordinary musicians that made their own significant contributions to the ever-evolving sound of Western Swing and Country & Western styles.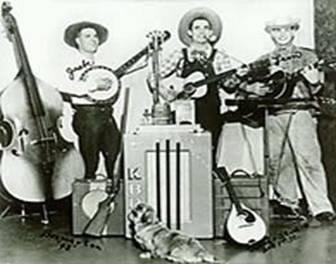 Among those contributors was Ted Daffan, an Alley Cats picker and songwriter who co-wrote the classic country weeper, "Born To Lose", which has been recorded through the years by artists on either side of the spectrum: George Jones, the Everly Brothers, Ray Charles, Dean Martin, even LeAnn Rimes.

It's mind boggling to think that an enduring musical form came about from Shelly Lee Alley's simple idea from a simpler time.

And here (left) is an early picture.

As Clyde Brewer says with a smile: "Alley almost predated Frances Scott Key."