Historical Western Swing - Milton Brown
By Leocthasme
Historical Western Swing
In the next several issues of Pencilstubs, I will try to continue my several articles on the history of Western Swing. Many, many, comments have been received directly by me and many more have appeared below the several articles I have written since the October Issue of 2000. There are still comments being made on the original article because it is referenced any time someone just looks for Western Swing by typing just those two words into a search engine. Well, let's face It, I love the referrals, and now just thinking of that, I feel I should continue to add all the information I can find on an interesting subject, from all sources beside all the information I have accumulated over the years from clippings and the backs of old record covers.
So every month or so I will find and report on some interesting fact, history, or an individual who helped make this genre very special in the history of American Music.
Here is another article on a very interesting person who did so much for
Western Swing
Keep Posted to This Site!
Milton Brown: Born in Stephensville , TX , in 1903. Died April 4. 1936 in Crystal Springs , TX.
Milton Brown and His Musical Brownies: 1932 – 1937 the Very First Western Swing Band.
Milton Brown invented Western Swing. He and his Brownies enjoyed regional popularity in their day, but their legacy has not fared well. Milton Brown and His Musical Brownies played music that was 'too jazzy' to win a prominent place in country music; 'too hillbilly' to be taken seriously by jazz enthusiasts; too full of regional quirks to be accepted as mainstream pop. So where does that leave them? It left Milton Brown and His Brownies as the very first Western Swing Band.
Well, Milton Brown and His Musical Brownies actually were the very first Western Swing Band. Sure I reported on the Doughboys as starting in 1929, but that was because Bob Wills and Herman Arnspiger actually were the 'first' Doughboys. And, in 1930 Milton Brown became the vocalist for James R. (Bob) Wills' band, the Wills Fiddle Band. In 1931 Wills, Herman Arnspiger (a guitarist), and Brown began playing a radio show as the Light Crust Doughboys sponsored by the Burrus Mill and Elevator Company. When W. Lee O'Daniel, president of Burrus Mill, ordered the Doughboys to quit playing dances, Brown left the band.
So, in 1932 he organized Milton Brown and His Musical Brownies, perhaps the best of the early Fort Worth bands. According to Durwood Brown, who played guitar with the Doughboys when not in school, his older brother Milton was a cigar salesman with little musical experience when he joined the Wills Fiddle Band. But Milton was a born band leader who learned quickly under the tutelage of Wills and Arnspiger. He took Durwood from the Wills band to play rhythm guitar; he then added Jesse Ashlock on fiddle, Ocie Stockard on tenor banjo, and Wanna Coffman on bass. Shortly after he organized the band, Brown employed pianist Fred (Papa) Calhoun and fiddler Cecil Brower. Thus, really and truly, they became the very first Western Swing Band. The Doughboys remained a Burris Mills sponsored radio show for several years. Bob Wills started the first Playboys after almost a year later when he left the Doughboys and started playing dances in Waco , TX and getting some radio time, whenever 'Pappy' Lee O'Daniel was not trying to put him off the air. Bob Wills' first band was called the 'Playboys' until he moved them to OK and then called them 'The Texas Playboys'.
Milton Brown and His Musical Brownies began broadcasting on KTAT, a Fort Worth radio station, and playing dances at the Crystal Springs dance hall in Fort Worth . The band was highly influential in the Fort Worth and Dallas area. Brown himself, one of the best vocalists western swing produced, influenced Wills' singers and consequently most western swing singers. Since the Brownies were always a fiddle band, the Bob Wills influence indelibly marked Brown's style. Jesse Ashlock, Brown's first fiddler, learned fiddling from Wills and had often gone to Wills' dances, where he would sit "right behind Bob and play real low and learn the tunes he played." In other ways Milton Brown took the Wills style beyond the level to which Wills had brought it. In 1934 he added Bob Dunn, the first, and in many ways the best, steel guitarist in western swing. In the formative years of the music, Dunn strongly influenced men like Leon McAuliffe and other steel guitarists. Brown was also the first to use a piano in western swing.
Brown's band became extremely popular in North and Central Texas and was known beyond the borders of the state. Between 1933 and 1936 it made more than 100 recordings for Victor and Decca. The royalties from those recordings were so meager that band members thought the record companies were cheating them, but the companies claimed their recordings simply had not sold well. What the band needed was a big-selling recording, but this possibility ended when Milton Brown was killed in an automobile accident in 1936, just as his career was developing. After Milton 's death, the popularity of the band declined. Durwood Brown, and the band made a few more recordings with the band until 1937, when they finally broke up.
Brown and his musicians were among the earliest pioneers of what was later called Western Swing, a mixture of country, blues, jazz, pop, and other musical forms. Wills and Brown were responsible for making Fort Worth the "Cradle of Western Swing". At the time of his death Milton Brown rivaled Bob Wills in popularity. Although he never became as famous as Wills, he was equally important in the development of Western Swing, without him, the genre as it is now known probably wouldn't exist
Well, among other things, it would be no exaggeration to call the Brownies one of the most important and most unjustly obscure, of the predecessors and forefathers of rock and roll. They were white dudes boppin' the blues, influenced more by Big Bill Broonzy, Memphis Minnie, Cab Calloway, and even Duke Ellington than by any country music artist. They boasted the first electric guitarist on record and one of the wildest ever, in their gonzo lap-steel man Bob Dunn. They had the beat, courtesy of a classic rhythm section, and they popularized the percussive slap bass style, which passed from the Brownies' Wanna Coffman to Bob Wills' band, which passed it on to Elvis' original bassist, Bill Black.
In many ways, the Brownies' most potent secret weapon was Milton Brown himself. He was an exceptional and innovative bandleader, forging a highly distinctive ensemble style while borrowing from anywhere and everywhere. He was also one of the first truly comprehensive American song stylists. Brown could, and did, sing just about everything, from straight pop to sentimental old ballads, heartfelt blues to jazzy hipster jive, and cowboy song to country hoe-down. Not only was he likely to follow an utterly idiomatic "Joe Turner Blues" with "The Sweetheart of Sigma Chi," he sang them both with equal fervor. At the time, there was nobody to compare to him.
Just being able to listen to Milton Brown's music, comes as a treat. I've been familiar with perhaps a dozen of the Brownies' vintage recordings; all collected vinyl reissues that are themselves long out of print. With Brown being generally ignored by both country music and jazz scholars, and little-known among pop and rock aficionados, a major 'Milton Brown and His Musical Brownies' reissue seems unlikely,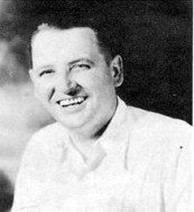 Milton Brown
---
Click on author's byline for bio and list of other works published by Pencil Stubs Online.
---