Some More about Western Swing - Bill Haley
By Leocthasme
In Past Issues of Pencilstubs I have written articles about Western Swing and on some of the bands that made the genre popular. So here is a bit more information on the subject.
Bill Haley and His Comets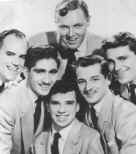 What?  You didn't know Bill Haley and His Comets was once a bunch of country and Western Swingers.   Well here is the story as I found it.
Bill Haley and The Comets fused elements of country music, Western swing, and black R&B to produce some of rock and roll's earliest hits. His "Crazy, Man Crazy" from 1953 was the first rock and roll record to make the pop charts.
Bill Haley was born in Highland Park , Michigan on July 6, 1925 to William and Maude Haley, the couple's second child.
The family had moved to Detroit from Firebrick, Kentucky where William Sr. found work in a nearby service station as a mechanic while his wife gave piano lessons in their home for twenty five cents an hour. Later the family moved to Boothwyn near the town of Chester, Pennsylvania .
Haley's father played the banjo and mandolin. Though he couldn't read music he had an ear for country music and was able to pick out any tune he wanted by ear. At thirteen Haley received his first guitar. His father taught him to play the basic chords and notes by ear. It was at this time he began his dream of becoming a singing cowboy like the ones he idolized every Saturday afternoon at the movie houses in nearby Marcus Hook or Chester .
In June of 1940, just before his fifteenth birthday, Haley left school after finishing the eighth grade and went to work bottling water at Bethel Springs. This company sold pure spring water and fruit flavored soft drinks in a three state area. Here he worked for 35 cents an hour, filling large five gallon glass bottles with spring water.
At 18 he made his first record "Candy Kisses" and for the next four years was a guitarist and singer with country and western bands.  After time on the road with the 'Down Homers', Haley returned to his parents' home in Booth's Corner in September of 1946.  He was ill, disillusioned and so broke he had to walk from the train station in Marcus Hook four miles to Booth's Corner. His only request to his mother was not to tell anyone he was home, not even his fiancée Dorothy. Bill fell into bed and slept thirty hours.  Over the next two weeks Mrs. Haley slowly nursed her itinerant son back to health.
By the age of 21, Haley felt he wasn't going to make it big as a cowboy singer and ill left the 'Down Homers', and returned to Chester to host a local radio program.  At this time he also married his childhood sweetheart Dorothy Crowe a beautiful part American Indian girl.

Haley was hired in 1947 as musical director for radio station WPWA. Working twelve to sixteen hours a day, six days a week he interviewed dozens of local people, always looking for good ideas and new talent. Each Sunday he would go to Radio Park and invite celebrities to do a special half hour program where he would interview them and ask them to sing or play their latest tunes.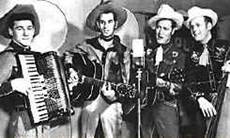 The Four Aces of Swing
( l to r Al Constantine, Tex King, Bill Haley, and Bashful Barney)
It was during this time that he put together a band 'The Four Aces Of Swing' that performed on his show. In 1948 on the Cowboy label Haley recorded with The Four Aces of Western Swing'. The Four Aces disbanded in mid '49 and Haley formed a new band the 'Down Homers' and he recorded country music.  Later he left the group to return to Chester to host a local radio program.
In the summer of 1950, through the efforts of Jimmy Myers, Bill Haley and his 'Saddlemen' cut their first records. They were on Ed Wilson's Keystone label, a small Philadelphia independent publisher. The songs were standard western swing tunes: "Deal Me A Hand", "Ten Gallon Stetson",  "Susan Van Dusan", and "I'm Not To Blame",  They were the first recordings of the band that would become the nucleus of the world famous Comets.
With their new, exciting sound the name "Saddlemen" no longer seemed appropriate. According to Marshall Lytle, it was Bob Johnson, Program Director at WPWA who first suggested the name Haley's Comets.  "Ya'  know, with a name like Haley, you guys should call your group the Comets!"

Just before the Thanksgiving holidays in 1952, Haley's band changed their name and their image for the last time. Off came the cowboy boots and the white Stetsons. With some regrets and more than a little apprehension, the four young musicians, turned their backs on their beloved country western music and bravely faced an unknown future as "Bill Haley and His Comets".
One example of that change was "Rock the Joint" which sold 75,000 copies. In 1953 he wrote "Crazy Man Crazy" which became the first rock and roll record to make the Billboard pop chart reaching the Top 20.
| | |
| --- | --- |
| Comets in 1952 | Comets in 1953 |
On April 1st, 1954, Myers, Gabler and Bill Haley met in Decca's New York offices. The three men discussed a contract for four records a year, a standard royalty of 5% of sales, $5,000.00 in advance royalties, and the understanding that Decca would mail out each release to two thousand disc-jockeys with full support publicity. Plus full page ads in Billboard and Cash Box magazines!  With the deal set and signed, the three men shook hands and agreed on a recording date four days after the Essex contract was due to expire.
It was while at Decca that Haley fell under the influence of Milt Gabler who had produced Louis Jordan. Gabler would convince Haley to change his sound. That change would be evident when on April 12th 1954, at Pythian Temple Studio with the recording of "Rock Around the Clock." The song that introduced rock & roll to White America. "Rock Around the Clock" originally recorded by Sunny Dae in 1952, "Rock Around the Clock" had  initial sales topping 75,000. "Rock Around the Clock" was a modest hit, until the song was used as the title track of "The Blackboard Jungle", a movie about juvenile delinquents, some 12 months later.
His next record a cover of Joe Turner's 'Shake, Rattle and Roll' was a top ten hit.  It was the first rock & roll record to sell a million copies  The next really big hit came with "See You Later Alligator" which sold a million copies within a month.
In 1957, Haley began touring Britain as his popularity began fading at home. The first American Rock and Roll star to come to Britain , he was met with large and enthusiastic crowds. The British soon found out what American teenagers already knew. Haley with his spit curl was old (30), overweight and rather mechanical when compared to Little Richard, Jerry Lee Lewis, Gene Vincent and Elvis who were younger and whose music was more exciting. Bill Haley & His Comets were there first, but now they were part of the establishment.
After 1957 Haley had a few minor hits, but spent the remainder of his life touring and playing Rock and Roll Revival shows. In the early morning hours of February 9th, 1981, Bill called two of his sons, Scott and Jack, and had his last known conversations. He died, in his sleep of an apparent heart attack, about 6:30 that morning at his home in Harlingen , Texas .  
Bill Haley was inducted into The Rock and Roll Hall of Fame in 1987.
---
Click on author's byline for bio and list of other works published by Pencil Stubs Online.
---