Cooking with Rod
By Rod Cohenour
New Year Traditions – Cooking for Success

      Christmas is a recent memory and a New Year awaits. The New Year symbolizes a new start, new opportunities, new friends, maybe new family members and our hopes and desires for welcome joy, health, and prosperity. In that vein, folks have held to certain traditions through the years – maybe even through centuries. Traditional meals that are said to increase our luck as we focus our thoughts on what we would like to see bear fruit in the year to come.

      'Tis said our New Year's meal should have a mix of foods to nourish our bellies while they nourish our thoughts. Back home in New Mexico, one dish that is traditional is Pork Posole. Most New Mexicans would not dare to welcome in a New Year without partaking of that dish. Now, my sweet wife and her family share a firm belief in the power of black-eyed peas. Many folks believe you should have a mix of foods that mirror wealth: peas or coin-shaped carrots to bring forth coinage, deep dark green for the long green bills, gold for (what else?) treasure, fertility-enhancing foods for the increased wealth of children, grandchildren or – if one is so blessed – great grandchildren. Thus, our table bears a mix of treats to meld these traditions. Typically a good pork dish, either a nice glazed ham or a well seasoned pork loin, devilled eggs for gold, a variety of black-eyed pea dishes to suit different tastes, fruits and cheeses, and ALWAYS a good pot of freshly made Posole. So this issue offers a few dishes to fulfill that menu. May the New Year bring you all the good things in life: love, joy, health, and prosperity.

      Bon appetit~!
New Mexico Pork Posole

      Those of you who follow my column may recognize this recipe, but it is well worth renewing it for this New Year's 2018.
Ingredients:
2 lbs boneless pork loin or shoulder, cut into 1/2″ cubes
2-4 Tbsp vegetable oil (no olive oil for this recipe)
1 Tbsp ground cumin
1 Tbsp chile powder
6 cups water
4 cups chicken broth (or 32 oz carton)
2 cans (29 oz) cooked hominy corn, drained
2 bay leaves
1 batch Salsa Roja (recipe below)
Toppings and Sides:
Finely chopped cabbage
Thinly sliced radishes
Thin red onion slices
Avocado slices
Lime wedges
Fried tortilla strips or tostadas
Chopped cilantro
Shredded cheddar or Mexican Mix cheese (Colby Jack, Monterey and Cheddar blend)
2 dozen flour tortillas, warm
Sweet creamery butter
Season pork cubes with cumin and chile powder. Heat vegetable or canola oil over medium-high heat. (NOTE: I do not like to use olive oil for a Mexican soup because it imparts the wrong flavor.) Add seasoned pork and cook until browned on all sides, working in batches if needed to keep the pot from being too crowded. Keep heat on medium to prevent scorching but allow proper carmelization to begin. Watch carefully and turn often. Make sure all surfaces are browned.
Stir in water and chicken broth, using a wooden spoon to scrape up any browned bits that might be clinging to the bottom of the pot. Add hominy corn and bay leaves.
Bring the soup to a boil, and then reduce heat to low and let simmer, uncovered, until pork is very tender, about 1 1/2 hours.
Just before serving, stir in salsa Roja and simmer for 10-15 minutes to heat through. Taste and adjust seasoning as needed.
Once the Posole is ready, set out an array of small dishes with various toppings in the middle of the table. Serve the Posole piping hot in large bowls, and let everyone customize their bowls as they please.
Tradition calls for this to be served with warm flour tortillas and plenty of butter.
Salsa Roja
1 (one) 14 oz. container frozen Bueno red chile concentrate
2 tbsp vegetable or canola oil
1/4 cup minced onion
2 cloves garlic, minced
1 tsp dried oregano (Mexican, if possible)
1/2 tsp ground cumin
Juice of 1 lime (or 1 Tbsp lime concentrate)
Set aside frozen Bueno concentrate and permit to begin defrosting.
Heat the oil in a small skillet set over medium high heat. Add the onions and garlic, and sauté until onion is lightly golden, about 3-5 minutes. Add oregano and cumin, and continue cooking until spices are fragrant, about 1 minute.
Add the Bueno concentrate and onion mixture to the bowl of a food processor. Process until you have a smooth puree, adding lime juice as needed to create a smooth consistency.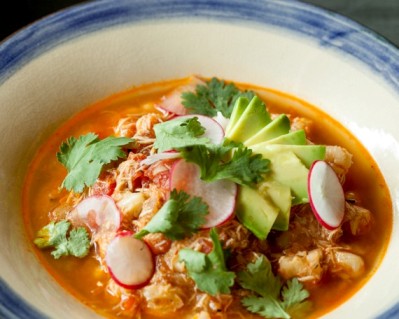 Posole Rojo in Blue Bowl
* * * * *
Traditional Black-Eyed Peas

Family Recipe – M. Cohenour


      The tradition in the South of eating black-eyed peas is an old one, dating back to the Civil War and "Burnin' Sherman's" March to the Sea in late 1864. Gen. William T. Sherman began his Savannah Campaign 15 Nov 1864 at Atlanta, Georgia and ended 22 Dec 1864 at the port city of Savannah. Along the way Sherman's troops slaughtered, raided, pillaged, and burned every inch of land. What they could not eat or loot or kill was set fire. When the bloody siege was finished, those Southerners who managed to survive emerged finding only their stores of black-eyed peas left to stave off starvation. The Yankee troops believed these legumes were the poorest form of livestock fodder and did not deign to even feed then to their horses. Thus, the lowly black-eyed pea became the symbol of Good Luck – the God-provided manna that preserved the lives of Southerners.

Ingredients:
1 lb. bag dried black-eyed peas (or 2 15 oz. cans, undrained)
1 large onion, diced
Water sufficient to cover peas
1 tsp ground black pepper
1 tsp salt (or Mrs. Dash for salt-free diets)
2 cloves garlic, minced
2 stalks celery, de-string and slice fine
¼ lb. ham, diced small (or good hambone to boil with peas and pick lean cooked ham to add back to dish after bone is removed)
1 can stewed tomatoes or 2 large tomatoes diced
1 fresh jalapeno, de-seeded and minced (wear gloves or scrub hands afterward – do NOT touch eyes, nose or lips while preparing pepper)
½ bunch cilantro (optional), strip leaves from stems and mince
Instructions:

      When using dried black-eyed peas, carefully pick through the peas to remove any debris or damaged peas. Rinse thoroughly, pouring peas through a colander and repeating the rinsing process until water runs clear. Add peas, onion, celery, and spices. Cover with water, put lid on pot and heat to boiling. As soon as the peas come to a rolling boil, lower heat and permit to simmer until crisp tender. Do not overcook. No one likes mushy peas. (If using canned peas, the process takes less time; however, the finished dish does not match up to the traditional dried method.)

      Add balance of ingredients now: ham, tomatoes, and jalapenos. Continue to simmer the pot of peas until jalapenos are tender. Add in cilantro a few minutes before serving or use as a garnish. Serve hot. Best served with fresh hot cornbread.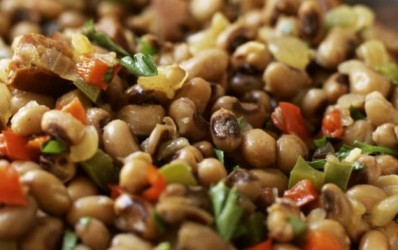 Traditional Black-eyed Peas
* * * * *
Texas Caviar (Black-eyed Pea Salsa)

M. Cohenour 2014


      This dish was originated by Helen Corbitt, the famous chef who made Neiman-Marcus' Zodiac Room THE place to eat in Dallas. LBJ so loved her food styling he urged her to accompany him and Lady Bird to the White House but she declined. Stanley Marcus called her the "Balenciaga of Food." My wife (who had the privilege of meeting Ms. Corbitt and has an early cookbook signed by her) has adapted the recipe with her own touches to achieve perfection – at least to my taste!

Ingredients:
4 cans black-eyed peas, well drained (or use freshly cooked or frozen)
1 can (15 oz.) shoe peg corn, well drained
1 can (15 oz.) black beans, well drained and rinsed
1 bunch green onions, diced using both tops and bulbs
1 med. Purple or sweet Vidalia onion, finely diced
1 small bell pepper, red or green, finely diced
1 large firm tomato, medium dice (or halve 1 pint cherry tomatoes)
2 – 4 jalapenos, de-stemmed, de-seeded and minced (wash hands thoroughly before touching eyes, nose or lips after processing the pepper)
2 ripe avocados, cubed just before adding to retain freshness
1 bunch cilantro
Dressing:
¼ cup red wine vinegar
¼ cup corn oil (or olive oil)
2 limes, zest first then reserve juice of both for dressing
1 tsp honey
2 garlic cloves, minced
½ tsp freshly ground black pepper
½ tsp cumin
Dash of red pepper flakes
Instructions:
In a large bowl combine well-drained black-eyed peas, corn, and black beans. Add most of the green onions (reserving a few of the tops for garnish), the finely diced onion and the bell pepper. Toss well.
Add diced tomatoes or halved cherry tomatoes and jalapeno peppers. Toss well.
Prepare dressing: in separate small bowl combine all ingredients for dressing and whisk well.
Add dressing to the black-eyed pea mixture and toss well to coat all ingredients. Place in refrigerator for at least half an hour to permit blending of flavors.
Just before serving, carefully add in avocado and leaves of cilantro that have been minced. Toss very carefully to avoid mashing the avocado.
Put back in refrigerator for about 15 minutes or so to permit flavors to blend.
Serve with tostados, chips, or warm flour tortillas.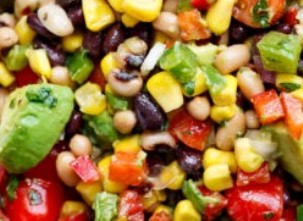 Texas Caviar with Avocado and Corn
* * * * *
Spicy Spinach Casserole

M. Cohenour 2014


      This dish brings forth the Green for that LONG GREEN we all wish to enhance our lives. My wife's take on the dish prevents it from being boring. I love spinach, anyway, but was impressed with this new twist. Enjoy!

Ingredients:
2 packages frozen spinach, thawed, with all liquid squeezed out
1 pkg cream cheese, softened
2 Tbsps milk
1 tsp ground black pepper
½ tsp cumin
1 clove garlic, minced fine
1 cup chunky salsa
1 cup freshly prepared Pico de Gallo, reserve some for garnish
8 oz. cheddar cheese or Mexican blend, grated
Cilantro leaves, no stems, minced (for garnish)
Instructions:
Butter 8x11 casserole dish.
Place spinach in bowl, using two knives as necessary to chop into edible bite-sized portions. Add cream cheese after whisking with milk, spices, garlic and salsa. Toss well and put in casserole dish.
Add Pico de Gallo on top of spinach dish, reserving some for garnish.
Heat thoroughly in 350º oven for about 25 to 30 minutes. Remove and add cheese to top of casserole.
Return to oven long enough to melt cheese.
Serve hot, garnishing with reserved Pico de Gallo and cilantro leaves, minced.
---
Click on author's byline for bio and list of other works published by Pencil Stubs Online.
---