Cooking with Rod
By Rod Cohenour
Mi Amore Cooks – Ms Chicken Cacciatore!

Valentine's Day is past, but the theme of LOVE remains. This month it's time to feature an original dish whipped up by mi amore, my darling M, my Melinda in (what else?) the classic Italian manner.

A few years ago, my little ole wife discovered an application that allowed her to whip up original dishes, then enter the ingredients in their respective amounts, cook it up, see how many it would feed and then – Ta da! – let that marvelous application figure out the nutritional data. Boy! Being a computer geek of the first order (that should read Computer Geek Of the First Order as though it came with a certificate and, possibly a desktop trophy…?) that wife of mine went to town making up new recipes just so she could labor over that diet and recipe application and spit out nutritional facts and data 'til the world turned rosy. This ole boy never complained. It was a new and exciting dish at least once a week, complete with a whipping boy towel if one desired more than one of those healthy helpings. Oh well, what cannot be changed must be tolerated, right?

So, for this month our own little Tour of Italy …( and being the loving wife she is, she never even complained when I painstakingly removed every single mushroom from my plate. After all, she would say, she loves mushrooms.)

Bon appetit!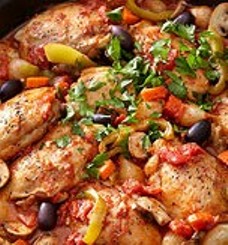 M's Chicken Cacciatore
Ingredients:
6 chicken breasts, boneless (skinless also if preferred)
Small amount oil to brown chicken quickly in hot skillet
Dash of Mrs. Dash (original) or salt (if you MUST)
Dash pepper to season (prefer cracked peppercorns)
1 small can chicken broth (or ½ cup cooking wine and ½ cup broth)
1 sweet bell pepper, diced.
3 cloves garlic, minced (1 Tbsp from jar)
1 large onion, diced (or 1 can drained pearl onions)
1 carrot, stemmed, pared and cut into thin dimes
1 cup fresh mushrooms, rinsed, stemmed and cut up
1 28 oz. can diced tomatoes, juice and all (can use stewed)
2 Tbsp Balsamic vinegar (good salad variety)
1 Tbsp Oregano
1 Tbsp Parsley
1 tsp Italian seasoning
Dash ground black pepper
1 can sliced black olives, drained thoroughly
1/3 cup flat leaf Italian parsley or fresh Basil, chopped or snipped
Instructions:
1. Add cooking oil or lard to skillet and heat quickly to sizzle when water flicked in. Sprinkle chicken breasts with Mrs. Dash (salt, if you MUST) and cracked peppercorns to season. Add boneless chicken breasts to skillet (if with skin-on place skin side down). Brown quickly on all sides and remove from skillet. Pour chicken broth (or broth and wine) into pan to loosen pan brownies, whisk to mix. Add carrots, onions and bell pepper to skillet, cook until liquid is reduced and vegetables have begun to carmelize. Retain juices.

2. Place browned chicken breasts in large stewpot, pour liquid from skillet over. Add caramelized vegetables and remaining liquid to stewpot. Add minced garlic and mushrooms. Add tomatoes. Season with Oregano, dried parsley, Italian seasoning, a bit more black pepper (make sure not to make too hot with pepper – this is Italian, not Mexican!). Bring to low simmer and allow to simmer in stewpot about 20-25 minutes until chicken is done and carrots are soft.

3. Add Balsamic vinegar and cook 3-5 minutes more to infuse flavor.

4. Garnish with drained, sliced olives and snipped parsley or basil to dish.

Serve with good cold salad, antipasto dish (if desired) and baked hot bread.

Serves 6 at about 350 calories per for Chicken entrée.
---
Click on author's byline for bio and list of other works published by Pencil Stubs Online.
---