On Trek
By Judith Kroll
Moment in Time
Why do I take a picture of a flower when the real flower is right in front of me? It could come back next year and I would see it again!
It is that moment in time we want to preserve. It belongs to US. We share our moment in time with others hoping their senses connect to the moment as well.
Sharing puts the visual in our mind's eye, triggers the memory bank to open wide and accept the visible view from the lens of our Camera and eyes,...the windows to our soul.
Sharing pictures we stay connected to other people, other cultures etc. The whole earth is shared with a click of a camera. A treasure at our fingertips. When a photo is circulated, wrap yourself in the magic, the lovely beauty from our brothers and sisters worldwide.
Enjoy the process, as each moment in time is so precious.
Judith 6/11/2018
Editor's Note: Pic at bottom of page is one of Judith's moments: her dog Rosie in the forest on her property.
I Once Lost Sight of Me
Riding with the seas of humanity
I found myself losing my identity.
Easy to do when you want to please others..
Then..I blamed the others who demanded from me
to be what they wanted me to be....

When the lights shined on me,
it became clear that I am responsible for ME.
I cannot make others happy,
each person must make themselves happy.
BE TRUE TO SELF

I will always love everyone I have come to know in this life,
and love all others as well,
because they are my brothers and sisters
thru universal birth of our "spiritual parents."

I am ME, please, love me for ME,
as our spiritual parents do.
We are all curing like fine cheese/wine.
Worry Not.
Do what you choose/chose/ to do
no matter what others do.

Find the joy in all..
NOT the faults.
Each of us are learning
at our own pace.

©May 2018 Judith Kroll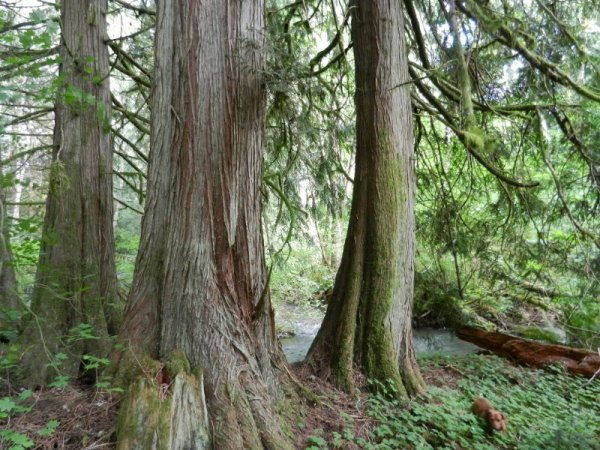 Judith asks, "Can you find our little Rosie dog in our beautiful forest?"
---
Click on author's byline for bio and list of other works published by Pencil Stubs Online.
---