Cooking with Rod
By Rod Cohenour

As the years go by, when you realize you're heading into retirement and a limited income, it's great to know how to make a good meal inexpensively. This is one of my favorites! You can make it with good lean ground beef or, if feeling flush or you find a great deal, use round steak, sirloin steak, or tenderized chuck to make Honest to Goodness Swiss Steak.

Remember, smothering the meat with onions and peppers tenderizes beef and the acidic tomatoes and their natural juice also act to tenderize. The Swiss steak is great served with baked or mashed potatoes, egg noodles or another mild pasta, or with steamed rice. Whichever way you choose, it is delicious!

Bon appetit~!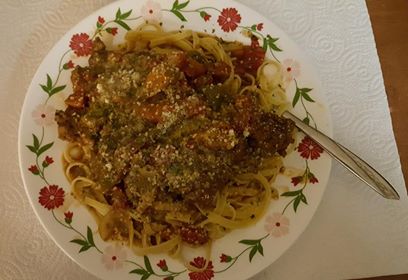 Po Folks Swiss "Steak"

Serves 6 - 8:
4 lbs ground sirloin (ground round or 93% lean ground beef)
1 lg. can Cream of Chicken Soup
2 sm cans French Onion soup
1 large onion, diced
1 lg. green Bell pepper, cubed
1 lg. red Bell pepper, cubed
3 stalks celery, de-string and cut in thin half moons
1 can diced tomatoes, juice and all
2 Tbsp. Ground black pepper (or to taste)
2 Tbsp. Original Mrs. Dash (or to taste)
1 tsp. Garlic powder (or to taste)
1/4 cup Minced onions

Directions:

Press entire package of meat into large electric skillet. Season top side, using half of all spices listed, except minced onions. Brown thoroughly. Using standard spatula, cut meat into serving portions before turning. Season flip side with remaining spices, reserving minced onions.

Cover meat with diced onions, celery, and cubed Bell peppers. Add full can of tomatoes. Cover and smother meat.

Whisk together Cream of Chicken soup, French Onion soup, and minced onions.

Pour gravy mixture evenly over meat. Cover, bring to a boil, then lower heat to simmer. Allow to simmer about 25 minutes.

Delicious served with mashed or baked potatoes or can serve over rice or noodles.

(NOTE: If you're feeling flush or your grocer has a good price on sirloin or round steak, this recipe is delicious and transforms into Honest to Goodness Swiss Steak!)
---
Click on author's byline for bio and list of other works published by Pencil Stubs Online.
---