Cooking with Rod
By Rod Cohenour
Mi Amore Cooks – M's Raspberry-Orange-Walnut Pork Loin!

Yes, I know it's December – past Thanksgiving and not yet Christmas. But, sometimes you just hanker for a dish from the past – no matter the time of year. And if you're gonna hanker, here is a dish worth all that mouth-watering, lip-smacking, memory-making hankering.

This is a dish that is so easy it practically makes itself. My better half is pretty good at thinking up these really divine palate-pleasing recipes that are easy to prepare but taste and look like the cook spent all day in the kitchen.
Bon appetit!
M's Raspberry-Orange-Walnut Pork Loin
Recipe by Melinda Cohenour - 2008

INGREDIENTS:
1 large pork loin, 12-15 lbs
2 Tbsp dried Onion flakes
1 bottle Ken's Raspberry Walnut Vinaigrette
1 can Mandarin Oranges, sectioned and seeded, including juice
2 large cooking spoons of flour
1 ½ quarts water

DIRECTIONS:
Preheat oven to 425º F.

Sprinkle all surfaces of loin with dried onion flakes. Place in large roasting pan, fat sheath up. Score fat sheath to permit seasonings to permeate. Arrange mandarin slices on loin. Pour juice into pan. Drizzle loin with vinaigrette (shake frequently). Rinse bottle and add 1 bottle of water to rinse out all remaining particles of vinaigrette.

Cook at 425 until top is browned; turn to ensure all surfaces of loin brown well. Lower oven temperature to 375 to 400. Liquid will reduce to a thick syrup in bottom of pan.

When done, remove meat from pan and permit to rest.

GRAVY:
Remove syrupy liquid to saucepan, scraping all solids from roasting pan, to include chunks of loin, walnuts, etc. into saucepan. Pour in 1 to 1 ½ quarts water into roaster and stir to loosen remaining bits of glaze. Retain that water.
Add 2 large serving spoons flour to bubbling glaze, over medium high heat. Stir quickly to blend, mixture should be boiling hot. Add water and drippings from roasting pan. Whisk thoroughly and constantly over medium high heat until gravy thickens. (Adjust thickness by either adding a slurry of equal parts flour and water or by adding more water.) Gravy should be smooth, of a rich dark brown shade and easy to spoon or pour from gravy boat.
Serve with mashed potatoes, tossed salad, hot rolls and cranberry sauce (if desired). Gravy should be spooned over potatoes and slices of loin.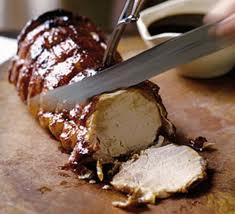 ---
Click on author's byline for bio and list of other works published by Pencil Stubs Online.
---