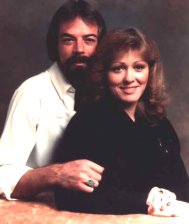 Rebecca D. Morris


My name is Rebecca D. Morris, I am in my forty's, (update to 2015, now a hard to believe 60) and I am married to a wonderful man named Steve. Although Steve and I were not blessed with children, I have several nieces and nephews that have filled our days.
I was raised in a small coal mining town in Virginia, and come from a large family. On my marriage to Steve we moved to West Virginia, that is actually only about 20 miles away from my home town.
Ollie Dare was originally started as a Christmas craft project, that I wanted to give to my nephews. One of our family Christmas traditions was doing a small family Christmas Play, that I would put together every year. One year after a short illness, the play never got off the ground, so I did a small skit about Ollie Dare and put it into a little book-form as a gift. From there I just began a series of short chapters that led me to the Adventures of Ollie-Dare.
I enjoy writing, the outdoors, and gardening.