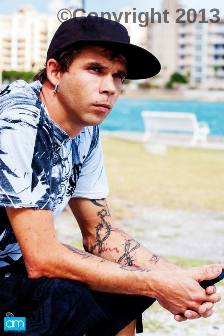 Jeremiah Raber


Self-described Amish rebel, Jeremiah, has taken a vow to do what he wants and let nothing hold him back. The rest of the Amish cast refer to him as a "Drama King," inciting arguments and hilarity wherever he goes. Jeremiah claims the #1 thing he's always wanted to do was drive a car, and upon his arrival in New York City, he fell in love with the idea of becoming a taxi driver.
Jeremiah has now wrapped up two seasons of "Breaking Amish," a reality documentary on television. He is involved in a *tee-shirt business that takes him all over the US, and is in the process of opening a Amish Bake Shop in Pennsylvania.
Jeremiah is now composing songs as well and hopes to be in the studio soon.
Bio Photo By: AM Photography by Adrian Maj.
---
* "now selling shirts through pay pal...unfortunately as of now this is only for the people in the U.S. Since I'm shipping them out they will cost more, the cost of the shirts and shipping combined is $24. Remember, U.S. ONLY as of now till I get shipping figured out for the rest of you guys. If you are interested then you can pay through pay pal using my email...jrbreakingamish@gmail remember to put on there what size."
Everything Photography by Brook Siar does pics at the tee shirt signings to be available later for sale.
Below: informal pic by Bruce Clifford