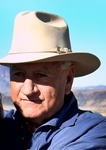 Randy Jackson


To begin, here is a brief outline:
graduated Monahans High School '64 (Texas)
BS, Sul Ross '68
M. Ed. 7
Doctoral Study. N. Tx State '71/'72
Director of admissions at SR. '71-'74
Moved to Nashville, TN in '74.. tour director for Conway Twitty / Loretta Lynn tour 2 yrs.. Alabama/ Janie Fricke 2 years.
'80 Moved to Dallas to direct career of Charley Pride and CEO of Pride management company.
'87 left Pride and started Showbiz Presents.. currently produce live events..
Had 4 songs cut in Nashville.. in 2004 published "Coondog Chronicles"
I have written poetry since fifth grade but the event that really stirred my soul was when Monahans classmate Richard Russell presented his interpretation of "Julias Ceasar"... Richard's passion opened an entire world of literature for me. I will always be grateful to him for that morning in Mr. Windsor's English Class.

I have a friend who is an artist.. she paints beautiful pictures from words... i paint words from pictures... Most of the things I write were from personal experience... I have carried a journal for years.. I write down things that touch or inspire me... I once was walking and sat down under a beautiful oak tree... It came to me what all that tree had seen... so I wrote it down...In fact I am certain I heard the tree say...


" I thought I heard you say my friend
How dull my life must be...
For I am not a human,
I'm just an old oak tree..


and so goes the story told me by the old oak.. for a few more lines...
(To see the poem, click on the link below, along with other poems shown.)

I now live in Alpine, Texas, with my wife Sherry, still producing events, writing, and mentoring college students.

This link is for Jackson's professional consultant website for events: setting up, bookng, promoting, etc. Randy Jackson