Don't Everyone Like Good Music?
By Leocthasme
Ever so often I get carried away about music such things as the 'History Of Western Swing'' 
http://www.pencilstubs.com/magazine/MagPage.asp?NID=319
or, 'More Western Swing
http://www.pencilstubs.com/magazine/MagPage.asp?NID=824
and then 'Even More Western Swing'
http://www.pencilstubs.com/magazine/MagPage.asp?NID=1004
and more on the subject,
http://www.pencilstubs.com/magazine/MagPage.asp?NID=1747
and on and on I wrote about music, even getting off the subject of Western Swing a bit with this article,
http://www.pencilstubs.com/magazine/MagPage.asp?NID=2037
And I even wrote about a guitar player who gives a lot of his time to charity and a group of cloggers who also spend a lot of their time entertaining those who can't get out to be entertained. 
And now I am going to write some more about music and another musical group that may not be getting all of the recognition it deserves.
Let's face it; it isn't easy to break into the big time, even when long time engagements at places like Six Flags, or having several CDs and Tapes on the market don't attract the attention of the powers that be.  The group, 'Whitehouse Harmony' has been a regular at Six Flags for many years and do have several tapes and CDs.  And they should have wide recognition, so let's start here with stories about recognition and how it happens.
There are a lot of individuals and bands that play at 'big time' places but really never hit 'big time'   I have some recordings of performers who I think are very good, but their recordings are not widely distributed all because some big time producer hasn't found out about them for some reason or another.
A guy like Sam Phillips was big enough to push the likes of Elvis Presley, Johnny Cash, Roy Orbison, Jerry Lee Lewis, Carl Perkins, and a few other hungry musicians, who early on had to back up each other while one of them was billed as the star of a recording.   It took Sam a couple of years of Sun Record hits to get all these guys into the public eye and each one in his own right and finally with their own backup bands and musicians.
It took a few years of playing baseball, a little name recognition while singing at local radio stations, and finally spending his own money getting his recordings just the way he wanted them to sound before making it big, and then only to die not long after in a plane crash.  But, 30 or more years after that crash his records were still selling big time all because that sound is distinctly Jim Reeves.
Seems hard to do, getting big time recognition.  But, sometimes it happens by the strangest of reasons.  Somebody spreads the word, maybe me, with this article in Pencilstubs.   Yep, that could happen if you all pay close attention to all the comments on my previous articles.
I got to hear this group just because I went to Mary's class reunion.  They were all part of the entertainment.    It isn't always that good entertainment is part of a class reunion just because most class reunions don't have the money to spend for top notch bands like Whitehouse Harmony.  Well, neither would this class if it had not been that the brother of the band leader was a member of Mary's class.  That helped.  Travis White and his wife, Charlotte, hosted this reunion.  Thus we were entertained by Delbert White and Whitehouse Harmony.
We, were all treated to the best of the best, live, in concert, at this special performance.  And, let me tell you it was special.  We got to hear their best, we got to request the best, and then we even got into the act, singing along, clogging along and dancing along.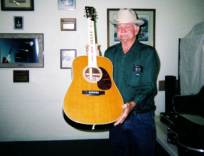 So, to be sure, a good time was had by all for as long as Whitehouse Harmony was willing to play for us, even long after a normal band session.  And, of course I was in the best seat in the house, right up front.  So I got to know them all and talk to them all.   Like Delbert White, the leader, and I got to get right up and get a good look at and feel that special, one of about 700 ever made, Grand 'Ol Opry, Martin Guitar. 
Here is the picture.
The Picture at the bottom of the page is of the singers. They are Haylie at the far left, Lisa Simon, Debra Sinclair, and Nina White. Nina is Delbert's wife, mother of Lisa and Debra, and grandmother of Haylie. That makes three generations in the group.
And, let's introduce the rest of the band. At the very left is the picture of the musicians. The Banjo player is Don Patrick. Next is Delbert White playing guitar. Playing Bass is Gene Pyeatt. And, the fiddle player is Delbert's granddaughter, Haylie Simon. She also does vocals and harmony.
Their sound is Bluegrass for the most part.  But, they do great gospel as well.   And when requested to do other numbers by the audience, they were just as adept at doing Country Music.  Those who read my articles about music should know by now that Country Music is grouped into Classic Country, New Country, Western Swing, Country Gospel, and Bluegrass, among other genres.   And, as the evening wore on I found that this group could do it all.  Even a request that they never ever practiced, 'Dueling Banjos' came off real well with Don and Haylie doing the dueling.  Delbert said after the performance, "Hey, without ever doing that one, it was good, we'll have to work on that for future performances."
The group has a website where you can get more information about the band and Bios about the members.  And you can buy their latest CDs or Tapes.  You will find more pics there too.  So check it out.
http://www.whitehouseharmony.com/
And, maybe you might even want to book them for YOUR next reunion.
Leo C. Helmer