Editor's Corner
December 2006!
But, who can believe it is already here? Certainly slipped up on your editor! Perhaps our friends in Peoria, Illinois, can believe it. They sent the snow pictures in this column. Apparently, they will not be cooking out tonite in Peoria! One of the pics shows the picnic table in the back yard with the bench completely snowed under, and the barbeque grill nearby.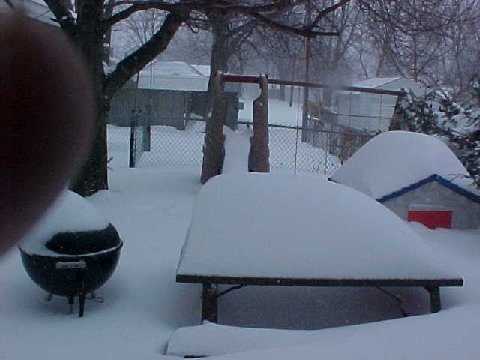 The next one shows that grill with about a foot of snow atop in a closeup picture. The one at the bottom of the page is a view toward the street where the 8 steps down to the sidewalk are just a snowdrift, and the cars are nearly covered as well.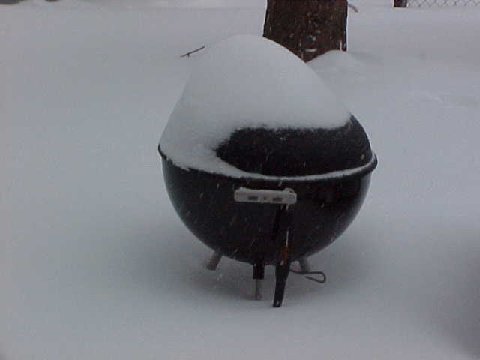 Thank you, Deb, for sending us the pictures! With a bit of help from our mutual friend, we finally got them in place.

We are publishing this Volume 9 Issue 10 a couple days late this month because of computer problems that forced an XP upgrade. Though it said it wouldn't erase files, it didn't promise not to redo outlook express which it did thereby losing all my file folders for the last 4 years. One of those folders contained the emails from authors with their work sent in for December. So......

Possibly all responded to the desperate email calling for sending again. At any rate, here is what we have for you:
The columnists are all in order with LC VanSavage's "Consider This;" and Leo C. Helmer's "Cookin' With Leo;" and our Australian author of his own e-Book lending an excerpt here for "Eric Shackle's Column;" Thomas O'Neill's "Introspective;" Mattie Lennon's "Irish Eyes;" Gerrard Meister's "Thinking Out Loud;" and of course the "Editor's Corner."
The articles are "Citizen Reporters Everywhere," also from Eric Shackle; and "Not so right," a long delayed publication by former English columnist Darren Bardsley. Both are interesting and Shackle's certainly does fit the description newsy.
We have twelve poems to share leading off with John I. Blair's well-worded "Atmospheric." Other poems by Blair are: "Give Humans A Place," "I Dreamed An Owl," "Killdeer Cunning," "Mob Rule," and "New Orleans 1954." Bruce Clifford sent in three poems as follows: "Breaking The Silence," "Catching Up With You Today ," and "Waiting Here So Long."
A new poet for our pages, but one who paints both with words and oils, an illustrator Robin Griffin displays her "Song a drummin' ." Ms Griffin also does remarkable charcoal drawings. Samples of her work may be seen at "The Painted Cardinal" her web-blog site. The link may be found at the bottom of her poem.
Your editor is putting a couple of her own poems in, one which has been published here before but has become a requested favorite: "Tiny Miracle." The other is also for the December holiday and is aptly called "The Season."
Again, we apologize for running late with the publication, but when computers are involved.... who knows when they will co-operate. We will see you next month with the last issue for Volume 9 as our new year and Volume begins annually in February.
Happy Holidays!
---
Photo's courtesy of Debbie Hines, Peoria, Illinois.
---