Editor's Corner
October 2007
Don't let life discourage you;
everyone who got where he is had to begin where he was.
--Richard L Evans
That is deeper than it sounds when you first read it. Why? Because it is perpetually renewed. Every second is a new starting point to get where you're going. Well, your editor has been telling herself that daily, and while preparing for the trip last month, it seemed to work as a procrastination excuse. Things kept being put off getting down to the details of being out of town: stopping the mail; making arrangements to pay bills in advance or as soon as returning; the never-less-laundry to do (has anyone else noticed it multiplies all by itself?); not to mention the actual packing bags and ultimately getting it all into the vehicle.
Because the issue release would occur while still traveling, an attempt was made to gather it for publication before starting the trip. Various authors were out of pocket themselves, but most responded promptly and as usual, brilliantly.
Since the webmaster has been rebuilding the presentation's overall "look" there are currently no pictures of authors with their columns, so this column is going to do them for you to see. (Hint: the .com version still shows the column pics though the new .org version does not as it is still under construction.)
Beginning with LC Van Savage, whose column "Consider This" is carried here monthly, along with other articles from time to time, she starts each new year with her very own birthday.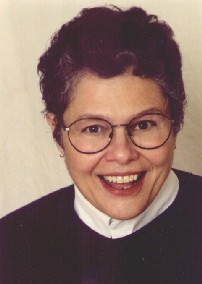 Next we have Leo C. Helmer, our "Cookin' With Leo" columnist, who also does regular articles about Western Swing, ( "Historical Western Swing - Shelly Lee Alley and His Alley Cats") and is currently doing "Great Jobs" excerpts from his autobiography "Life is Fun When You Live It" ("Great Jobs: Chapter 11-Back To New Orleans"). As an honorary member of the Light Crust Doughboys, Helmer keeps us updated on their organization in "Latest on the Doughboys."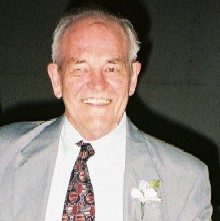 David Francis, "Dave's Here" finds enough time and words to add useful thoughts each issue, though he has recently launched a real time, glossy magazine in Southern Kentucky, "Soky Happenings" which is definitely expanding his duties.

Eric Shackle, the author/owner of the first International eBook "Life Begins at 80" co-publishes his stories with the network(GrayPow) he also started of international ezines, including Pencil Stubs Online. His column, "Eric Shackle's Column" appears all over the world through the network which sometimes picks up and re-publishes various works from this ezine. He often calls attention to a certain senior citizen such as in this issue's article, "Oysters and Guinness" which features the world's oldest blogger Olive Riley who will reach an astounding age in October.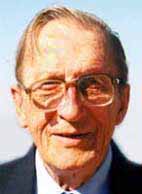 "Introspective" by Thomas O'Neill touches the readers heart while intriguing their mind. His compassion is only matched by his enthusiasm for spreading hope while living his concept of Altruism. His various works include some scientific offerings, but are highlighted by the inspirational stories of unconditional love, such as "The Sage of Millville" this issue,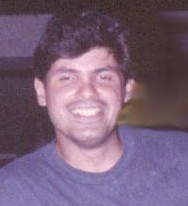 "Irish Eyes" is done by Mattie Lennon of Dublin, Ireland. His repertoire of literary and other media presentations are always entertaining and often quite humorous. His essays about historical Irish personages is both interesting and valuable information.

Down in Florida they have a treasure they are surely pleased about in Gerard Meister whose column "Thinking Out Loud" graces our pages. His view point is a pleasure to read each month, with the subject soaring all over the globe, but always spiked with his special way of getting his point across. Click his name to find the series he did about one of Wartime's forgotten heroes, Sam Dreben.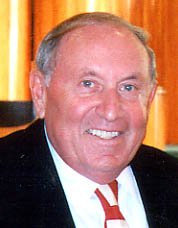 When it comes to poetry, one name you can count on as being an active author isJohn I. Blair and for October, we are showing seven of his poems. First a poignant trio of cat lover's verses ("As Much As Man Can Love A Tomcat," "Mister Fluffers," and "Soft Underbelly") along with his musing on the past - "Solid Rock," and on history - "Windbreak" and "Cycles," and eccentricities of personal behaviour - "Silly Me."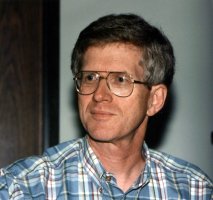 Bruce Clifford, who submitted a bio picture the day of publication, does his seven songs and shares them with us and we joyfully receive them. Along with his love tales, he explores ecology and philosophy in his themes. "Will We Ever Get This Right," What's the Secret," "What Are We Doing To Ourselves," "Waiting," "Kick Me When I'm Down," "I'm Sitting Alone," and "One Soul," will sing to you.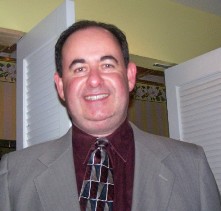 Mark Crocker shares his latest poem, "Missing My Daughter," and a story "My Garden." Mark, who does more than garden, having taught both the skill of Fencing (see "Fencing")and the sport of skiing, puts his analytical skill to comparing the amusing (and amazing?) similarities of raising children to a garden.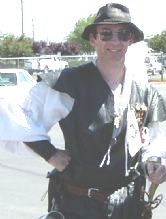 Last but not least, here's proof that Leo cooks, your editor eats, and your webmaster Mike Craner can put up with both of them.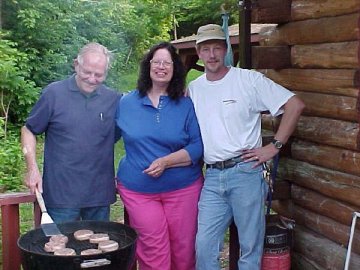 See you in November!
---
Click on author's byline for bio.
---