Editor's Corner
May 2008
Your editor loves car trips. I think it harks back to when that was the primary entertainment with our families. We had depression period parents and it was always scrimp, save, make do, but Daddy had a little box with plenty of patches for the inner-tubes, a manual air pump, strength and patience, and gasoline was less than a quarter per gallon, so travel was relatively inexpensive. Everyplace that is now a state park or national one, within 200 miles radius of home, and visiting with relatives, were day trips to be enjoyed. Scenery was admired, signboards became game material, poems were recited, songs were sung, birds were counted, and lunch was packed with lemonade in a big jug, both newspaper wrapped to keep them cold. Watermelons or cantaloupes or peaches or figs could be bought in spring and summer, while nuts and apples could be found in the fall. Sometimes these trips including fishing and then the catch was eaten alongside the Pecos River, which ran free and much clearer in those days.
Below is a picture of your editor's mother wading in that river near an area dam. Daddy was always an avid photographer and this pic was taken with one of the original kodak "box" camera's.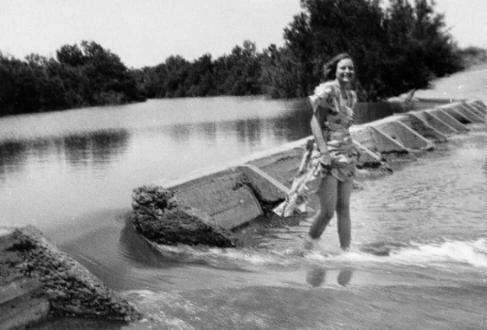 Both parents were creative and we had lovely things though they were home made. I glanced at furniture prices the other day for dressers and recalled the orange-crate based dresser and the nail keg stool that daddy made and moma dressed with crisp organdy ruffles all around, and a little matching ruch around the oval mirror hung above. Our bed skirt on the metal bed also matched and mom quilted a scene she drew of fairies having tea on toadstool seats around a big mushroom table to slipcover the iron rail head board, while the foot rail blossomed with more organdy ruffles. And moma made a quilted "mushroom" cushion for the seat on the nail keg.
Of course, this reminiscing began while thinking of May as being when outdoor things like baseball begin; and when we commemorate Mothers the second Sunday of the month; and all our lost loved ones and heroes on the last Monday, the way it is now celebrated. Originally, May 30th was Memorial Day no matter what day of the week it was.
John I. Blair's poetry for May includes a couple verses to keep you thinking about Mother's Day: "Daughter That I Never Had," and "For Clara's Mother" though it is actually a beautiful love poem. Also in this issue by Blair are "Beryl," "Almond Eyes," "Wine," and "Philip Nolan."
Bruce Clifford sings of love accidentally offending, "Spec in Your Eye;" love as carefree as "A Kite's Dream;" and love renounced in "Love and Laughter." Your editor, Mary E. Adair lauds her new look in "My Hair."
Love realized is the gist of "Walk With You" a tender poem by M. Jay Mansfield. And promising now, his poem "Daddy" will be in June ezine for the Father's Day theme.
Thanks to Jules, a mutual friend, we introduce a poet new to our pages, Jacquelein Verhuis, from Holland, whose special poem "Behind My Closed Eyes" is presented the way she submitted it, on a picture background. Don't miss this lovely work.
Our columnists step up to the plate here, just as the batters of the MLB do at this time of the year. LC Van Savage slugs a hit in her article, "Stars and Sands," then slides into home to score with the column," Consider This."
While Baseball players are swinging bats, the type swing Helmer dishes out is the article for Western Swing fans about the Doughboys' manager, Art Greenhaw and his personal history.
Speaking of plates, Leo C. Helmer zaps up "Crunchy Italian Chicken" in his column "Cookin' With Leo." More in the culinary vein is discussed by the astute author, see "Coffee 101."
"Irish Eyes" sounds like it's going to be about cooking as he writes about "The Butcher Boy." However, Mattie Lennon tells us This butcher has also been busy cutting songs and albums in Ireland, for a long time.
David Francis marks a one year anniversary of his glossy mag published in his home state of Kentucky, and lets us in on his current plans in "Dave's Here!" Thomas F. O'Neill fills his "Introspective" space with "Mysticism for the Modern world" which adds an interesting view into its subject that will intrigue you whether it is ordinarily your 'cup of tea' or not.
Gerard Meister ("Thinking Out Loud") updates us in a Henny Youngman style on what's occurred in his life recently. Always a humorist, he makes any challenge sound optimistic, even life challenges. May he thrive as long as the subject of Eric Shackles's Column, Frank Pelatowski. Eric also provides an article with a great subject for all writers, "Jeff Deck's Fearless War on Typos." Shackles work is coming out both in Pencil Stubs Online and in OHMYNews, one of the former GrayPow allied publications based in Korea.
If you're only into looking at pictures, don't skip "The Mailbag" offering! This beautiful true story has an amazing glimpse of a survivor.
Look under STORIES for Helmer's current work-series, "Great Jobs 18-A Great Job For A Long Time." It relates the saga of his trucking career during which he logged more than a million miles without an accident. That means he did a mite of travelin' as he would say, so next month will be some more truckin' tales.
We'll let you find out the rest for yourself as you let your mind 'travel' through this Pencil Stubs Online.
See you next month!
---
Click on author's byline for bio and list of other works published by Pencil Stubs Online.
---