Cancer Survivor Branigan Completes Ironman Triathlon
Sixty-two year old Larry Branagin, a member of the IT group at Armstrong's Cabinet Products office in Addison , Texas , returned to work this week (Oct 20) after successfully completing the Ford Ironman World Championship in Hawaii  on October 11, the acknowledged "Super Bowl" of worldwide Ironman triathlons.  That in itself is newsworthy, but Larry is also a recent colorectal cancer survivor, having finished his medical treatments only a year ago.
Larry says, "I feel blessed that I was able to do this.  I went to Hawaii to prove that a foundation of faith can help accomplish the impossible."   Fellow Armstrong employees at the Addison office feel that perhaps Larry's greatest accomplishment is not this race, but the inspiration he provides to other Armstrong employees.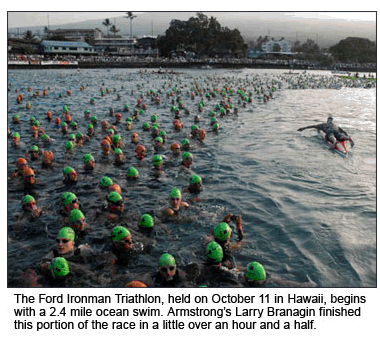 Louis Burrell
, vice president of Human Resources for Armstrong Cabinets, says, "Larry is such an inspiration to so many people, particularly because he is a cancer survivor.  He gets up early and stays up late to train, all behind the scenes, before and after work.  It's a tough schedule. He sets a wonderful example for all of us.  In fact, I train for triathlons myself, and Larry's example keeps me going." Louis notes, "Even with the physical and mental demands of training and battling cancer, Larry has a track record of
always having a kind word for everyone! He is always available to help others. It just blows people away!"
If you are a triathlete, there is no bigger day in the sport than the Ford Ironman World Championship. In a race where every detail is meticulously attended to, athletes are invited to explore the " Big Island 's" breathtaking Kona Coast while at the same time getting in touch with their own physical and inner strength.  The race this year attracted nearly 1,800 competitors from around the globe. Larry qualified for the event through a lottery system.
The 2.4-mile ocean swim, 112-mile bike race and 26.2-mile run were completed in succession on one day.  Larry completed the race 25th of 38 entrants in his age division, with a total elapsed time of fourteen hours, thirty-eight minutes and thirty-three seconds.
Larry was first diagnosed with colorectal cancer in September 2006. He received daily treatments of radiation and chemotherapy for eight weeks, underwent the first of four surgeries in December 2006, had to wear a colostomy bag for a few months and then undergo another six months of weekly chemotherapy, finishing in September 2007.  Of the experience, he says, "I tell people that the biggest hurdle they face is often the space between their own ears. They must find different ways to think through and do things.  For me, building on a foundation of faith – through my church, my doctors, my coach and myself – was an integral part of my healing.   The teamwork is important. A physical therapist works with me, my coach and my doctors to help me learn how to mentally engage some of my muscles." 
Larry was training for triathlons before he was diagnosed with cancer and his bout with the illness was only a temporary setback in his plans.  Now cancer-free and "feeling fantastic," says Larry, his next goal is to train and complete another triathlon in August, 2009, in Louisville , Kentucky .   He says this Corkboard article will do more than just publicize his recent triathlon experience.  "It gives me the opportunity to get the word out to other Armstrong employees about the importance of routine cancer screenings. Due diligence is important."
---
Editor's Note: Larry Branigan works with the editor's daughter for Armstrong Cabinets in Addison, Texas. Article used with permission.