Editor's Corner
April 2015
Shall always remember the month of April as one of your editor's best schooltime friends was born the 2d. Phyllis married first and ended up living back in the little town in Missouri she was born in. When the tornado hit there a few years back, she had already succumbed to breast cancer, passing away a couple days from my sister Jacqui's friend, Lois. One thing we are making progress in is finding cancer earlier and offering a few options for handling it. That's the good word today.
To honor cancer survivors, the pic at bottom of this column is from one of my beautiful great granddaughters, Alyssa Wadford.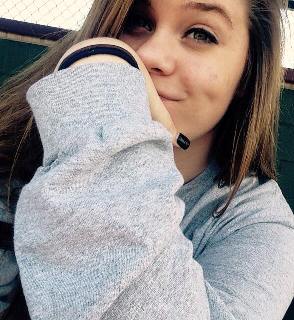 She explains the pic this way, "Softball pinkout game 2015. Released 2 balloons, one for my Great Grandma Mary Elizabeth Adair and one for Debra Blount. These girls in the pic here are the sisters I have always wanted💕"
Nancy Park's "Mind, Body & Spirit Connection" shares a virtual tour of ethereal experiences. Judith Kroll aka Featherwind's column "On Trek" discusses "old scripts/new scripts" and we are the actors.
Thomas F. O'Neill ("Introspective") warns of the addiction of the internet. Mattie Lennon ("Irish Eyes") has a warning too. His concerns "The Unsigned Letter."
John I. Blair's column "Always Looking - People Who Made A Difference XXVIII" is about a brilliant person's short but eventful and memorable life: James Joseph Reeb. Blair's three poems are "Grackle," "Possum," and "Tall."
Phillip Hennessy sent along "It's a Good Day Today" which is rather deep. His other poem is "Compassion's a Cycle." Phil has recently been seeing more of his songs chosen by various groups/bands and recorded. He has several songs on YouTube, and we will try to put a link here for you. If you were reading last holiday season, one of his poems was set to music, sung by a choir, and used as a national fund raiser to help poor children in Great Britain. Here is a link Love Is Here .
Bud Lemire has one poem this month: "The Tree." Heard thru the facebook grapevine that he's been under the weather! Get well soon, Bud!
Bruce Clifford's two poems are "So Tired of You" and "It's Taking Me a Long Time." Mattie Lennon adds a parody (of a 'more severe' poem by a different author) which he wrote for the Literary Festival by the same name, "Doneraile."
On our old server we featured a section for Serials. One of those was written for the nieces and nephews of Rebecca Morris. There are several chapters that did not make the transfer over to the new server and with Rebecca's permission we are presenting them again with the first chapter "The Beginning" of "The Adventures of Ollie- Dare" in this issue. Share these with your little ones.
The current genealogist researcher in our family is my sister Melinda (Carroll) Cohenour. This month she shares her excitement and delight in compiling memories and tales in the article "Charles "Napa Charley" Hopper - The Ancestor whose Adventures Sparked my Interest in Genealogy."
Again we thank Mike Craner for his expertise and patience that allows this little ezine to present over 400 different authors over the last seventeen years, with their compositions of story, poetry, articles, and ongoing columns.
---
Click on author's byline for bio and list of other works published by Pencil Stubs Online.
This issue appears in the ezine at www.pencilstubs.com and also in the blog www.pencilstubs.net with the capability of adding comments at the latter.
---