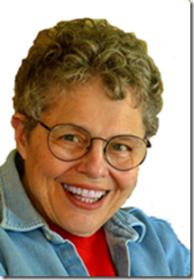 LC Van Savage


My name is Elsie (LC) Van Savage and I am 78 years old. I was born on Staten Island, New York, and I've lived in Brunswick, Maine since 1974 with my husband Stephen. We've been very happily married for 56 years, have three sons, and six grandchildren.
My column "LC's Take" appeared in the Times Record in Brunswick, Maine for over 30 years, and the column now appears weekly in The Coastal Journal out of Bath Maine. My stories and essays also appear in the Maine Seniors Magazine.
I've had articles and short stories published in magazines, small press magazines, anthologies and books. I write rhymed and rhythmed poetry, and have included these in a book called "LC's Take - Poetry-I." I occasionally do readings around Maine from my poetry book, columns and books.
I also had a local TV show on Maine Public Broadcasting Network for 15 years (it is still running) called "incredibleMAINE" where my crew and I travelled all over the state to film interesting shows about our state, her people and the things they do, and we never once ran out of show ideas. These shows still appear every Saturday morning at 10:30 AM on MPBN. I also had a weekly radio show for 3 years called "Senior Moment" broadcast from Bowdoin College and in total I've had four interview radio shows over the years.
A collaborative writer, I wrote a book with Marilyn Monroe's first husband (Jim Dougherty) entitled, "To Norma Jeane with Love, Jimmie," featured on E!, TV Guide, The Larry King Show and Bill Green's Maine. Three other collaborative books are completed, called "Dancing for Poppy," about a woman who overcame an abusive father and went on to survive a long and dangerous life, and "Jan of Cleveland," a time- travel book about the 1300s and the intense horrors and humors of that era. My books "Frances" and "Queenie's Ascent" are being readied for submission. I have completed the biography of Virginia Mayo, a movie star famous from the l930s through the '70s entitled, "The Best Years of My Life," and I've written the biography of John Agar, Shirley Temple's first husband and also a famous star from the 40s and on, entitled "On the Good Ship Hollywood."
My how-to book called "How to Paint People's Life Stories" is being brought up to date, (written before computers were in people's homes!) While I no longer paint people's entire life stories in (often) mural sized paintings in the "outsider-art" genre (aka "primitive" or Grandma Moses style,) I now paint smaller, one- subject personal bio paintings. As of now I'm doing paintings in that genre on many of the wonderful old songs of the 30s, 40s and some 50s, by Cole Porter, the Gershwins, Harry Warren, Irving Berlin—the list of great American songwriters is very long, the music is very good; Swing On a Star, Don't Fence Me In, White Christmas, Somewhere Over a Rainbow, Apple Blossom Time, You'll Never Know —I will happily be painting these fabulous songs for the rest of my life.
My semi-autobiographical novel is called "Queenie's Ascent," a story of a wealthy young girl in the 1950s who is abruptly ripped from her affluent life—debutante parties, servants, country clubs, horses, trips abroad, and most importantly, private schools,-- and is dumped into a very tough and "low class" public school filled with not any PLO – People Like Ourselves. She is frightened and has a most difficult time adjusting and coping. Her classmates name her "Queenie" because they think she behaves in a rather superior and "foreign" way and they quickly disabuse her of her exalted airs. A shocking and brutal scandal rocks her family while Queenie is at the public school, involving her father and several teachers from her old private school. Queenie is taught and finally learns, much against her will, how to survive this new life and how to be at peace amongst people for whom she had, until then, nothing but contempt.
"Frances" is my next book, already written, awaiting editing. It is the story of a cruel and abusive Scottish housemaid/nanny who is perfectly and faultlessly murdered by the young teenaged girl she tortured for years.
You can check on me by going to:
LCVanSavage.com
storybowls
Coastal Journal
incredibleMAINE
Maine Seniors Magazine
BIOCLOCKS & MINIBIOS.
| | | | | | | |
| --- | --- | --- | --- | --- | --- | --- |
| Type | | Month | | Year | | Title |
| Column | | November | | 2000 | | Consider This |
| Article | | December | | 2000 | | Joy to the World. . .Maybe |
| Column | | December | | 2000 | | Consider This |
| Column | | January | | 2001 | | Consider This |
| Column | | February | | 2001 | | Consider This |
| Column | | March | | 2001 | | Consider This |
| Column | | April | | 2001 | | Consider This |
| Column | | May | | 2001 | | Consider This |
| Column | | June | | 2001 | | Consider This |
| Column | | July | | 2001 | | Consider This |
| Column | | August | | 2001 | | Consider This |
| Column | | September | | 2001 | | Consider This |
| Article | | October | | 2001 | | Old Glory |
| Column | | October | | 2001 | | Consider This |
| Column | | November | | 2001 | | Consider This |
| Article | | December | | 2001 | | Thanks for Much |
| Column | | December | | 2001 | | Consider This |
| Column | | January | | 2002 | | Consider This |
| Story | | January | | 2002 | | Colorado Christmas |
| Column | | February | | 2002 | | Consider This |
| Article | | March | | 2002 | | An Editorial: Subject, Pedophiles |
| Column | | March | | 2002 | | Consider This |
| Column | | April | | 2002 | | Consider This |
| Column | | May | | 2002 | | Consider This |
| Column | | June | | 2002 | | Consider This |
| Column | | July | | 2002 | | Consider This |
| Column | | August | | 2002 | | Consider This |
| Column | | September | | 2002 | | Consider This |
| Column | | October | | 2002 | | Consider This |
| Column | | November | | 2002 | | Consider This |
| Column | | December | | 2002 | | Consider This |
| Column | | January | | 2003 | | Consider This |
| Article | | February | | 2003 | | War Is Not Healthy For Children |
| Column | | February | | 2003 | | Consider This |
| Column | | March | | 2003 | | Consider This |
| Column | | April | | 2003 | | Consider This |
| Column | | May | | 2003 | | Consider This |
| Column | | June | | 2003 | | Consider This |
| Article | | July | | 2003 | | Eulogy for Rita |
| Column | | July | | 2003 | | Consider This |
| Column | | August | | 2003 | | Consider This |
| Column | | September | | 2003 | | Consider This |
| Column | | October | | 2003 | | Consider This |
| Column | | November | | 2003 | | Consider This |
| Poem | | November | | 2003 | | Sister Bernadette Gets Down! |
| Story | | November | | 2003 | | Chance Meeting |
| Column | | December | | 2003 | | Consider This |
| Story | | December | | 2003 | | Confession Can Be Bad For The Soul |
| Story | | December | | 2003 | | Agatha's Story |
| Column | | January | | 2004 | | Consider This |
| Article | | February | | 2004 | | Editorial: Exploiting? I Wonder |
| Column | | February | | 2004 | | Consider This |
| Article | | March | | 2004 | | EDITORIAL: Smoking. But Do I Have An Opinion? |
| Column | | March | | 2004 | | Consider This |
| Column | | April-May | | 2004 | | Consider This - April |
| Column | | April-May | | 2004 | | Consider This - May |
| Column | | June | | 2004 | | Consider This |
| Article | | July | | 2004 | | Sports, Deer, and Video Tape |
| Column | | July | | 2004 | | Consider This |
| Article | | August | | 2004 | | Let Us Stay Proud of Those Who Have |
| Column | | August | | 2004 | | Consider This |
| Article | | September | | 2004 | | Mispronunciations Won't Bring Down The Nation |
| Column | | September | | 2004 | | Consider This |
| Article | | October | | 2004 | | We Had Super Heroines Too! |
| Column | | October | | 2004 | | Consider This |
| Article | | November | | 2004 | | Life Lesson Hits Again. Ouch! |
| Column | | November | | 2004 | | Consider This |
| Article | | December | | 2004 | | Machines As Pals |
| Column | | December | | 2004 | | Consider This |
| Article | | January | | 2005 | | Word Meanings Change Like Everything Else |
| Column | | January | | 2005 | | Consider This |
| Article | | February | | 2005 | | Dream, And It Might Come True |
| Column | | February | | 2005 | | Consider This |
| Article | | March | | 2005 | | Anger, Rage, and Stupid |
| Column | | March | | 2005 | | Consider This |
| Article | | April | | 2005 | | Editorial: War: Make it, or... |
| Column | | April | | 2005 | | Consider This |
| Article | | May | | 2005 | | Editorial: Many are Called, Many Go |
| Column | | May | | 2005 | | Consider This |
| Article | | June | | 2005 | | Games I Cannot Win |
| Column | | June | | 2005 | | Consider This |
| Article | | July | | 2005 | | Quitting Just Ain't Easy |
| Column | | July | | 2005 | | Consider This |
| Article | | August | | 2005 | | Muhammad and Cassius |
| Column | | August | | 2005 | | Consider This |
| Article | | September | | 2005 | | Writing in Peace and Quiet |
| Column | | September | | 2005 | | Consider This |
| Article | | October | | 2005 | | Give Us This Day Our Daily Goals! |
| Column | | October | | 2005 | | Consider This |
| Article | | November | | 2005 | | Be Polite, Do It Right And Respondez |
| Column | | November | | 2005 | | Consider This |
| Column | | December | | 2005 | | Consider This |
| Article | | January | | 2006 | | Scranton Pennsylvania: Part One; Part Two |
| Column | | January | | 2006 | | Consider This |
| Column | | February | | 2006 | | Consider This |
| Article | | March | | 2006 | | Oh The Flowers That Bloom In The House, Tra La! |
| Column | | March | | 2006 | | Consider This |
| Article | | April | | 2006 | | Random Acts of Kindness |
| Column | | April | | 2006 | | Consider This |
| Article | | May | | 2006 | | All Creatures Great… |
| Column | | May | | 2006 | | Consider This |
| Article | | June | | 2006 | | My Life Saved; Waiting To Find Out Why |
| Column | | June | | 2006 | | Consider This |
| Article | | July | | 2006 | | Surprises and Embarrassments |
| Column | | July | | 2006 | | Consider This |
| Article | | August | | 2006 | | Swastikas, etc. |
| Column | | August | | 2006 | | Consider This |
| Article | | Sept & Oct | | 2006 | | Five Years and Not Fixed |
| Column | | Sept & Oct | | 2006 | | Consider This |
| Article | | November | | 2006 | | Need To Know? We Don't |
| Column | | November | | 2006 | | Consider This |
| Column | | December | | 2006 | | Consider This |
| Article | | January | | 2007 | | The Days of Whine |
| Column | | January | | 2007 | | Consider This |
| Column | | February | | 2007 | | Consider This |
| Article | | March | | 2007 | | Laments? I've Had A Few... |
| Column | | March | | 2007 | | Consider This |
| Article | | April | | 2007 | | 'Ain't What They Used To Be, Many Long Years Ago |
| Column | | April | | 2007 | | Consider This |
| Article | | May | | 2007 | | The Beings Beneath Your Floor |
| Column | | May | | 2007 | | Consider This |
| Article | | June | | 2007 | | We Have No Need To Know |
| Column | | June | | 2007 | | Consider This |
| Article | | July | | 2007 | | When They Were Seventeen, |
| Column | | July | | 2007 | | Consider This |
| Article | | August | | 2007 | | All Day I'll Go A-Wanderin' |
| Column | | August | | 2007 | | Consider This |
| Column | | September | | 2007 | | Consider This |
| Column | | October | | 2007 | | Consider This |
| Column | | November | | 2007 | | Consider This |
| Article | | December | | 2007 | | Gun Noises |
| Article | | December | | 2007 | | Halo, Everybody, Halo |
| Column | | December | | 2007 | | Consider This |
| Column | | January | | 2008 | | Consider This |
| Article | | February | | 2008 | | '07 IS GONE, '08 IS HERE. |
| Column | | February | | 2008 | | Consider This |
| Column | | March | | 2008 | | Consider This |
| Article | | April | | 2008 | | Your Toothbrush And Its History |
| Column | | April | | 2008 | | Consider This |
| Article | | May | | 2008 | | Sands And Stars |
| Column | | May | | 2008 | | Consider This |
| Article | | June | | 2008 | | Mr. Gardello And Other PBs |
| Column | | June | | 2008 | | Consider This |
| Article | | July | | 2008 | | Being Green and Loving Ed Begley |
| Column | | July | | 2008 | | Consider This |
| Article | | August | | 2008 | | Country Rocks! |
| Column | | August | | 2008 | | Consider This |
| Article | | September | | 2008 | | Mirrors |
| Column | | September | | 2008 | | Consider This |
| Article | | October | | 2008 | | Under The Sea! |
| Column | | October | | 2008 | | Consider This |
| Article | | November | | 2008 | | Like The Shadows of My Mind |
| Column | | November | | 2008 | | Consider This |
| Article | | December | | 2008 | | Veteran's Day 2008 |
| Column | | December | | 2008 | | Consider This |
| Article | | January 2009 | | 2008 | | The Ball Slides Down Again |
| Column | | January 2009 | | 2008 | | Consider This |
| Column | | February | | 2009 | | Consider This |
| Article | | March | | 2009 | | A Stench By Any Other Stench Stinks The Same |
| Column | | March | | 2009 | | Consider This |
| Article | | April | | 2009 | | She Wants T'be Wuvved By You |
| Column | | April | | 2009 | | Consider This |
| Column | | May | | 2009 | | Consider This |
| Article | | June-July | | 2009 | | Chester Remembered |
| Column | | June-July | | 2009 | | Consider This |
| Article | | August | | 2009 | | I Saw The Magics. Yes I Did Too |
| Column | | August | | 2009 | | Consider This |
| Article | | September | | 2009 | | Fifty And Still Holding !! |
| Column | | September | | 2009 | | Consider This |
| Article | | October | | 2009 | | Forks, Glorious Forks |
| Column | | October | | 2009 | | Consider This |
| Article | | November | | 2009 | | Fifties And Seventies |
| Column | | November | | 2009 | | Consider This |
| Article | | December | | 2009 | | The Greatest Invention Ever |
| Column | | December | | 2009 | | Consider This |
| Article | | January 2010 | | 2009 | | Dinkum And Leppy |
| Column | | January 2010 | | 2009 | | Consider This |
| Article | | February 2010 | | 2010 | | The Good Cops in Maine, And Our Wreck |
| Column | | February 2010 | | 2010 | | Consider This |
| Article | | March | | 2010 | | A Tiger And His Stripes |
| Column | | March | | 2010 | | Consider This |
| Poem | | March | | 2010 | | My Ghost |
| Article | | April | | 2010 | | When I Grow Up I Wanna Be A… |
| Column | | April | | 2010 | | Consider This |
| Article | | May and June | | 2010 | | There Oughtta Be A Law! |
| Article | | May and June | | 2010 | | Carla Zilbersmith |
| Column | | May and June | | 2010 | | Consider This |
| Article | | July | | 2010 | | Glares And Other Arts |
| Column | | July | | 2010 | | Consider This |
| Article | | August | | 2010 | | Men, Gas Tanks And Other Fables |
| Column | | August | | 2010 | | Consider This |
| Article | | September | | 2010 | | Here's To the Guys Who Brought it Over |
| Column | | September | | 2010 | | Consider This |
| Column | | October | | 2010 | | Consider This |
| Column | | November | | 2010 | | Consider This |
| Poem | | November | | 2010 | | Life Is--- |
| Column | | December | | 2010 | | Consider This |
| Article | | January 2011 | | 2010 | | Teachers and Heroes |
| Column | | January 2011 | | 2010 | | Consider This |
| Article | | February | | 2011 | | Dressing Up To Go Shopping? No More! |
| Column | | February | | 2011 | | Consider This |
| Article | | March | | 2011 | | On Babushkas and Elitism |
| Column | | March | | 2011 | | Consider This |
| Column | | April | | 2011 | | Consider This |
| Column | | June | | 2011 | | Consider This |
| Poem | | June | | 2011 | | The Berries |
| Article | | July-August | | 2011 | | Letter From The American Flag To The American People |
| Column | | July-August | | 2011 | | Consider This |
| Column | | September | | 2011 | | Consider This |
| Column | | October | | 2011 | | Consider This |
| Column | | November | | 2011 | | Consider This |
| Poem | | November | | 2011 | | Ann Was A Fool |
| Poem | | November | | 2011 | | Men on Vacation |
| Column | | December | | 2011 | | Consider This |
| Article | | January 2012 | | 2011 | | On Lovejoy's Pond |
| Column | | January 2012 | | 2011 | | Consider This |
| Column | | February | | 2012 | | Consider This |
| Column | | March | | 2012 | | Consider This |
| Poem | | March | | 2012 | | It Had to Have Been A MAN |
| Column | | April | | 2012 | | Consider This |
| Poem | | April | | 2012 | | Nun and Chappie, Her Rainbow |
| Column | | May | | 2012 | | Consider This |
| Column | | November | | 2015 | | Consider This |
| Column | | December | | 2015 | | Consider This |
| Column | | January 2016 | | 2015 | | Consider This |
| Column | | February 2016 | | 2016 | | Consider This |
| Column | | March | | 2016 | | Consider This |
| Column | | April | | 2016 | | Consider This |
| Article | | May | | 2016 | | SLINKYS |
| Column | | May | | 2016 | | Consider This |
| Article | | June | | 2016 | | Respect, Honor and Chopsticks |
| Column | | June | | 2016 | | Consider This |
| Article | | July | | 2016 | | And I Did Nothing |
| Column | | July | | 2016 | | Consider This |
| Poem | | July | | 2016 | | EMMA |
| Story | | July | | 2016 | | R. E. Pulsive, The Lonely Ugly Toad |
| Article | | August | | 2016 | | Is It Maybe Our Job? |
| Column | | August | | 2016 | | Consider This |
| Poem | | August | | 2016 | | Lace Doilies |
| Story | | August | | 2016 | | How to Be A Dragon |
| Column | | September | | 2016 | | Consider This |
| Story | | September | | 2016 | | The Horse of Many Colors |
| Column | | October | | 2016 | | Consider This |
| Story | | October | | 2016 | | Beth and the Bee |
| Column | | November | | 2016 | | Consider This |
| Story | | November | | 2016 | | The Red Purse in the Trunk in the Old House |
| Story | | November | | 2016 | | The Gift of The Intercom |
| Article | | December | | 2016 | | Bringing Stella Home |
| Column | | December | | 2016 | | Consider This |
| Article | | January | | 2017 | | 1rst of January, 2017 from LC |
| Column | | January | | 2017 | | Consider This |
| Poem | | January | | 2017 | | The Kiss Goodbye |
| Article | | February 2017 | | 2017 | | Hair Today, Hair Tomorrow |
| Column | | February 2017 | | 2017 | | Consider This |
| Article | | March 2017 | | 2017 | | Brad Terry and Giving Tuesday |
| Column | | March 2017 | | 2017 | | Consider This |
| Article | | AprMay | | 2017 | | VESPA! SI!! |
| Column | | AprMay | | 2017 | | Consider This |
| Article | | June | | 2017 | | The Butter Lady of Sabattus |
| Column | | June | | 2017 | | Consider This |
| Article | | July | | 2017 | | Letters to France Olive |
| Column | | July | | 2017 | | Consider This |
| Article | | August | | 2017 | | Statues High Up |
| Column | | August | | 2017 | | Consider This |
| Article | | September | | 2017 | | A Girl Named Queenie |
| Column | | September | | 2017 | | Consider This |
| Column | | October | | 2017 | | Consider This |
| Story | | October | | 2017 | | THE SAGA OF THE TRAVELING CHAIR |
| Article | | November | | 2017 | | The Saga of The Lowly Napkin |
| Column | | November | | 2017 | | Consider This |
| Column | | December | | 2017 | | Consider This |
| Story | | December | | 2017 | | Gloria's Glory |
| Article | | January 2018 | | 2017 | | Dear Lizzie |
| Column | | January 2018 | | 2017 | | Consider This |
| Article | | February 2018 | | 2018 | | Aunt Jeannette |
| Column | | February 2018 | | 2018 | | Consider This |
| Article | | March | | 2018 | | Glorious Succulents Galore |
| Column | | March | | 2018 | | Consider This |
| Article | | April | | 2018 | | Were You There? |
| Column | | April | | 2018 | | Consider This |
| Article | | May | | 2018 | | Blinders, Bucket Lists and Queenie |
| Column | | May | | 2018 | | Consider This |
| Article | | June | | 2018 | | Etiquette Then, and Occasionally Now |
| Column | | June | | 2018 | | Consider This |
| Column | | July | | 2018 | | Consider This |
| Poem | | July | | 2018 | | Falling Stars, Dying Stars |
| Story | | July | | 2018 | | The Catholic And The Agnostic |
| Article | | August | | 2018 | | A Kiss Is Still A Kiss |
| Column | | August | | 2018 | | Consider This |
| Story | | August | | 2018 | | Neptune and the Boy |
| Column | | September | | 2018 | | Consider This |
| Column | | October | | 2018 | | Consider This |
| Article | | November | | 2018 | | Hallowe'en Then |
| Column | | November | | 2018 | | Consider This |
| Article | | December | | 2018 | | The Important Uses of Yawns and Laughs |
| Column | | December | | 2018 | | Consider This |
| Story | | December | | 2018 | | Abigail and Her Best Friend Layla |
| Article | | January 2019 | | 2018 | | The Top of My Grandmother's Dresser |
| Column | | January 2019 | | 2018 | | Consider This |
| Story | | January 2019 | | 2018 | | JACK, HARRY and THE ARTIST |
| Article | | February | | 2019 | | GONE |
| Article | | February | | 2019 | | For 2019 I Resolve to NOT |
| Column | | February | | 2019 | | Consider This |
| Article | | March | | 2019 | | Houses and Their Ghosts |
| Column | | March | | 2019 | | Consider This |
| Column | | April | | 2019 | | Consider This |
| Column | | May | | 2019 | | Consider This |
| Column | | June | | 2019 | | Consider This |
| Column | | July | | 2019 | | Consider This |
| Column | | August | | 2019 | | Consider This |
| Column | | September | | 2019 | | Consider This |
| Column | | April | | 2020 | | Consider This |
| Column | | May | | 2020 | | Consider This |
| Column | | June | | 2020 | | Consider This |
| Column | | July | | 2020 | | Consider This |
| Column | | August | | 2020 | | Consider This |
| Column | | September | | 2020 | | Consider This |
| Column | | October | | 2020 | | Consider This |
| Article | | November | | 2022 | | Here's To the Guys Who Brought it Over |